50 Essential Gay Films
12.9.2012
By Out.com Editors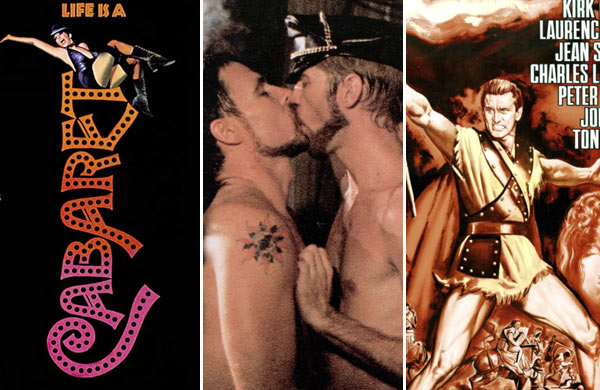 ENTERTAINING MR. SLOANE (1970, dir. Douglas Hickox)
John Cameron Mitchell, Director:
I had to resort to Amazon U.K. to find Entertaining Mr. Sloane, based on the outrageous play by queer bomb-throwing Brit Joe Orton. It's about a murderous bisexual hustler being fought over by a lower middle–class, upper middle–aged brother and sister played by the brilliant Harry Andrews and Beryl Reid. Sample: "Until I was 15, I was more familiar with Africa than my own body."
ROPE (1948, dir. Alfred Hitchcock)
Christopher Landon, Director:
Two "best friends" commit a murder then host a dinner party where guests unknowingly dine over the victim's corpse. This is Hitchcock at his most diabolical. Rope is best known for its illusion of one seamless shot. But the thing that had critics and viewers buzzing was the film's homoerotic undertones—ballsy stuff for 1948. What isn't well known is that several key people behind the film, including the screenwriter, composer, and one of the male leads (Farley Granger), were gay. It's a brilliant, heady mixture of dark humor and suspense and easily among my favorite Hitchcock movies.

MALA NOCHE (1986, dir. Gus Van Sant)
Gregg Araki, Writer/Director:
Everyone obviously knows Milk, Good Will Hunting, Elephant, and My Own Private Idaho, but Van Sant made a movie three years before Drugstore Cowboy that is amazing. Shot in 16-millimeter black-and-white on a super-low budget, Mala Noche is everything great cinema should be: bold, provocative, aesthetically gorgeous, and, most important, it feels necessary. It speaks in a voice with something original and meaningful to say instead of falling into the "I just want to be a director and here's a retread of whatever worked last year" trap that so many young filmmakers seem to fall into. It's a textbook example of raw talent and passion working with the most modest of means and creating an extraordinary work of art.
X, Y & ZEE (1972, dir. Brian G. Hutton)
Simon Doonan, Creative Ambassador - Barney's New York:
Imagine Who's Afraid of Virginia Woolf? set in early '70s swinging London—caftans, butterflies, boozing, shrieking, rich-hippie decor, and no shortage of bitchy queens. Then add Elizabeth Taylor, Michael Caine, and Susannah York. The opening credits -- Liz hurling her busty self into a vigorous game of Ping-Pong in slo-mo—are orgasmic.
THE HOUSE OF YES (1997, dir. Mark Waters)
Chris Benz, Director:
I can watch this over and over, and it's so hard to find on DVD! Parker Posey's best performance by far: "Now if you'll excuse me, I'm going to go baste the turkey and hide the kitchen knives."
THE LAST OF SHEILA (1973, dir. Herbert Ross)
Michael Kors, Designer:
What better than a murder mystery filled with glamorous characters set on a huge yacht in the Mediterranean with an all-star cast that includes everyone from Raquel Welch to James Mason?! That it was written by Stephen Sondheim and Anthony Perkins makes it a double-gay bonanza!

SHAFT (1971, dir. Gordon Parks)
Lee Daniels, Director:
As if the title weren't self-explanatory. I was 12 years old when my grandfather took me to see it. I will never forget Richard Roundtree's slow build to almost full erection through a diffused lens. It was sexploitation at its best -- and the coming out of Lee Daniels.