Photo by Ronan Healy
No one can get Irish people's panties in a twist better than Panti Bliss, the drag persona of Rory O'Neill, who in the last few months has sent shock waves through the planet by being direct, articulate, and extremely well accessorized.
On January 11, Panti went on the Irish channel RTE to blast that country's homophobes, including various hateful journalists who love to throw curveballs at equal rights. Well, the haters bristled over being called on their antics and went so far as to threaten legal action over the allegedly unfair treatment they'd received.
In response, RTE actually apologized and gave them payoffs! I guess this was the opposite of hush money—it was more like cash incentives enabling these creatures to keep spouting their vitriol. 
Fortunately, the outrage couldn't be silenced. The RTE turn of events led to Panti's incredibly well executed February 1 speech onstage at Dublin's Abbey Theater, in which the drag star discussed the roots of the homophobes' behavior and the absurdity of their claims to be oppressed. She did so well with this oration that it's amassed well over half a million YouTube views and reams of major coverage. A month later, Panti is tarter and smarter than ever—and even more in demand. In her latest bit of delicious public speaking, she talked to me for this column.
Michael Musto: Congrats on your wonderful speech, Panti. What was your motivation to do it and were you nervous about it at all?
Panti Bliss: The invitation to give the speech came after I'd already been embroiled in a national scandal (which hilariously has become known as "Pantigate") for a tumultuous three weeks. Of course I never expected the speech to have such an impact, but I took the opportunity to give it, simply because I wanted to articulate my side of the story directly, away from the noise of the tabloids or political commentators and without the filter of lawyers or television producers. I wasn't nervous--my theater shows are essentially monologues, so I am very comfortable talking to a theater audience--but I was aware that the stakes were higher here than simply a bad review. (For starters, I was facing five defamation lawsuits!), so I wanted to do a good job. And I did suffer from a very bad case of dry mouth.
The ramifications of your speech have been quite massive. What are some of the more amazing things that have happened to you in the aftermath?
At home, I was already well-known in gay and theatrical and hipster circles, but this whole affair has turned me into a household name here, which is a little odd. It's still a little surreal to hear the name "Panti Bliss" being bandied about in Parliament. And the whole affair has had major ramifications here with regards to the marriage equality debate, but also free speech legislation and the role of the national broadcaster. The speech going viral has been amazing. I've had thousands of emails, cards, and letters from all over the world, many from gay people, of course, but also from women, people in wheelchairs, people with Asperger's…anybody who feels on the "outside". From a career perspective, it has been fun. Suddenly I don't have to sell my shows anymore! The agents are beating my door down. I'm heading back to Australia, I'm coming your way, I'm speaking to universities in Canada, and I'm off to Paris. I'm writing a book and can pick and chose from interested publishers. I get offers to appear on TV all over the world, and to write newspaper columns and op-ed pieces. What started out as distressing and difficult, in the end turned into something so positive. It's been amazing and exhilarating and exhausting. 
Do you feel doing drag is a political act in itself and should more drag performers use that to make serious points, like you did?
Absolutely! And one thing that has been reinforced for me by this whole experience is how powerful an act simply putting on a dress can still be. It still really riles some people up. I think most of my favorite drag performers are very aware of the political ramifications (even if they sometimes try to hide it in sequins and gags)--like Lady Bunny, Taylor Mac, or on this side of the pond, people like Jonny Woo and Scottee. But of course I love a good fart joke too.
Would you consider doing a lecture tour? 
I've always done quite a bit of "speechifying," and while I do a lot of silly late-night boozy shows (I have my own bar here in Dublin—Pantibar--and do a weekly nutty show full of lip-synced movie scenes, etc), my theater shows have always tread a fine line somewhere between stand-up, story-telling, and polemic--with ass jokes! But yes, suddenly my calendar has a lot of talks at universities or company HQ's.
Would you rather reach the 'phobes than preach to the coverted?
I think, sadly, the angry 'phobes are probably a lost cause and probably not worth the effort, but I think it is still worthwhile and necessary to try and reach the middle-ground casual 'phobe. But one way of doing that is by energizing the already converted, which is almost as much fun as riling up the lost cause angry homophobes.
Well, keep 'em panting, Panti.  Watching you ream them a new one has been pure Bliss.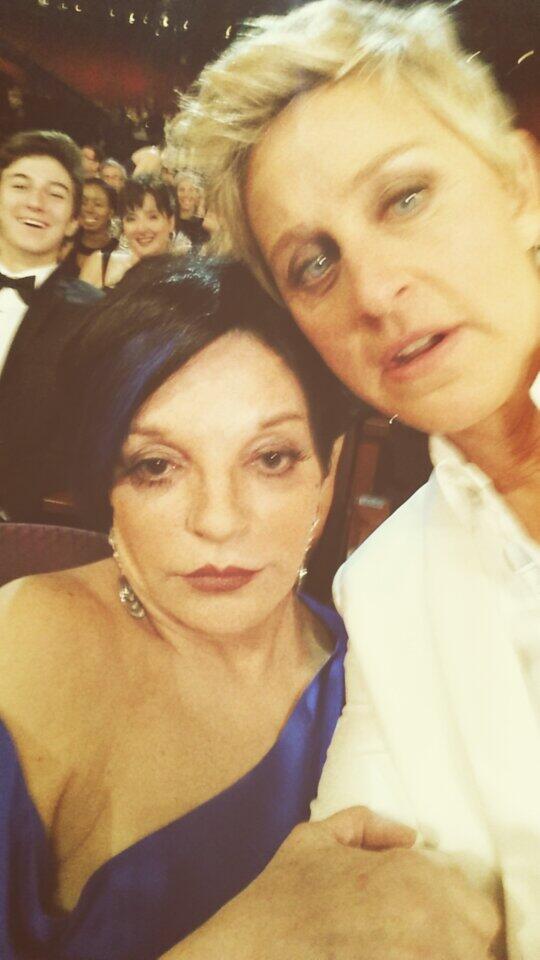 I'VE A FEELING WE'RE NOT IN KANSAS ANYMORE
The inspiration for drag queens everywhere, Judy Garland, was feted during a particularly gay moment at last night's Oscars, when The Wizard of Oz's 75th anniversary was celebrated in a ruby-colored segment. Alas, the result seemed like a lost opportunity that had me humming, "If They Only Had a Brain." The widely promoted appearance of Judy's kids—Liza Minnelli, Lorna Luft, and Joey Luft—amounted to the three of them bowing from the audience for a second, while the bulk of the piece went to Whoopi Goldberg introducing Pink, who sang (while earthbound) over clips of the film. Perfectly nice, but missing the "wow" factor that could have made this bit a camp queen's delight. Fortunately, Liza had a few other shticks on the show, like grimacing when Ellen comically mistook her for a Liza impersonator, and hugging Lupita Nyong'o when she won, surely adding to the surrealness of the actress's big moment.
Screen goddess Kim Novak's appearance as a presenter also came off a bit diffuse, but it was still terrific to have them welcome the star of the greatest movie ever made (Vertigo) and the worst one too (The Legend of Lylah Clare)—though I actually prefer the latter. Tuxedoed Ellen DeGeneres was a relaxed host, though a lot of her material wasn't exactly electrifying. But this year they were going for a nice Oscars, and they succeeded, especially when the extremely name-heavy death montage got a whole separate Bette Midler number afterwards. (No, she didn't sing "Ding Dong The Witch Is Dead").
SLIDESHOW: Oscars 2014 Best/Worst Dressed
The living and breathing (and belting) Idina Menzel defied "Gravity" and got screen time of her own; Matthew McConaughey took us to his wonderful cuckooland place; and everyone seemed pretty happy—though the two movies about shady people got fleeced, and the 12 Years a Slave director and screenwriter seemed to purposely avoid thanking each other. Worst of all, every category was so predictable that you can no longer win a pool by going out on a limb. Simply predict what everyone else on earth is going for, and you'll tie for 100%. Still, I'm thrilled that the documentary about me won—2,000 Miles From Stardom.