[Photo: @TheEllenShow]
It came, it awarded, and it was awesome... This was the 2014 Academy Awards.
The Red Carpet
Just moments after stepping onto the red carpet Jennifer Lawrence took a spill reminding us just how adorable she is. (J-Law, you keep doing you!) The moment immediately recalled her Best Support Actress win for Silver Linings Playbook when she tripped up the stairs. Of course, the Internet pounced and had a field day with the occurence.
[GIF]
Ellen DeGeneres, the Oscar host, also capitalized on the moment and updated her monologue to include a joke about J-Law falling down this year and last year. Way to stay on your toes, Ellen. 
Meanwhile, Benedict Cumberbatch won Photobomb of the Year after leaping into the background of U2's group photo. Benedict cumberbitch-slapped Bono with his amazingness and beautiful face.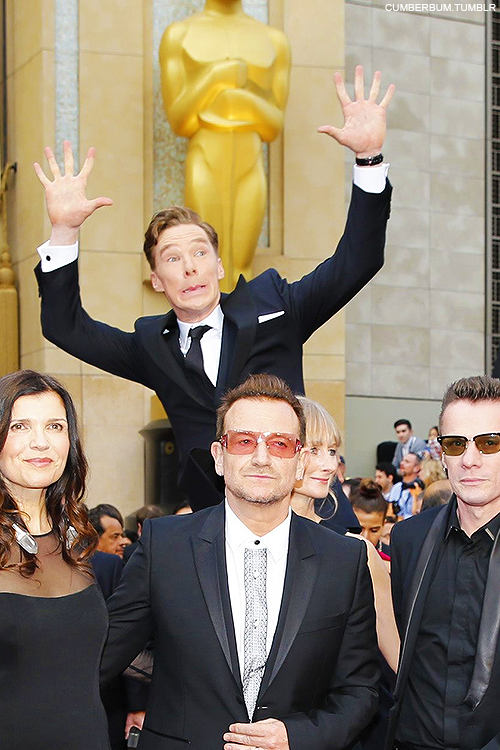 [Photo: Twitter]
The Opening Monlogue
The daytime talk host show slayed in her second time as host of the Oscars. Ellen's opening monologue was light on the harsh jokes and heavy on the good times had by all. Though nothing beat her lesbian dick joke with Jonah Hill.
Although, she burned Liza Minnelli for looking like a man. "Good job sir," the host quipped. Not surprisingly, Minnelli was not amused. [Watch here.]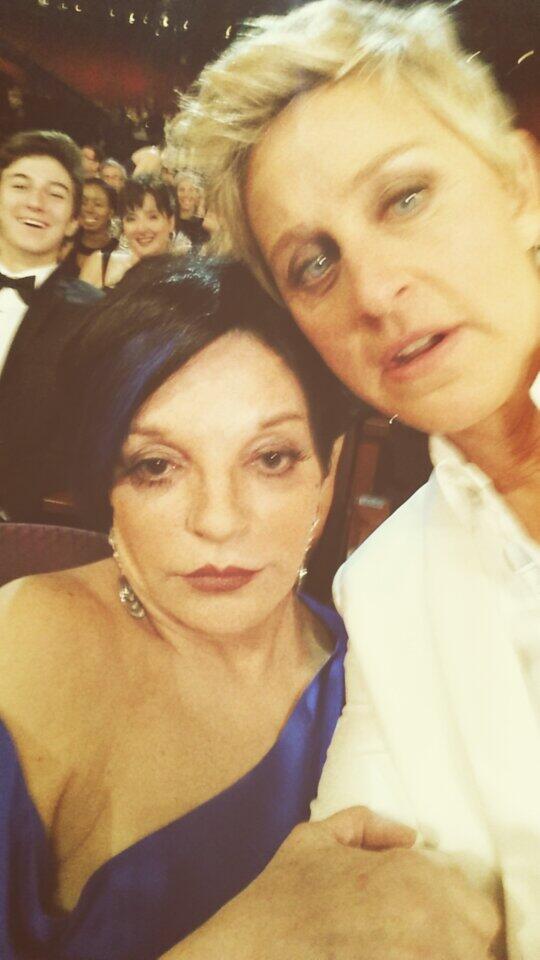 [Photo: @TheEllenDeGeneres]
The Awards
Thanks to longstanding tradition, Cuba Gooding, Jr.'s only notable acting role was awarded first, which went to Jared Leto for Dallas Buyers Club. 
"For those whoever felt injustice for who you are or who you love, this is for you," Leto said while accepting the award for Best Actor in a Supporting Role. Leto gave a touching speech that celebrated his family and the larger community that his win encompassed.
[Photo: Getty]
Later in the show, Matthew McConaughey was nearly brought to tears while accepting his award for Best Actor in a Leading Role for DBC. While somewhat of a ramble, it was a touching moment and it certainly was a culmination of McConaughey's transformation into an A-list actor, which has included roles in Magic Mike and HBO's True Detective. But he ended with his familiar "alright, alright, alright" because it was still Matt. (And thank goodness for that!)
Outside of that, the most notable moments went to the Best Original Song performances. 
Pharrell Williams managed to get not one but three Oscar-nominated actresses, including Meryl Streep, to dance with him during his performance of "Happy."
[GIF: Tumblr]
Meanwhile, Karen O and Idina Menzel both brought the house down with their renditions of Her's "Moon Song" and Frozen's "Let It Go," which took home the award.
In Other Gay News
Pink was there! The singer decided to give her repeat aerial acrobatic preformance a rest and stay on the ground for a tribute to Judy Garland and the 75th anniversary of The Wizard of Oz. She sang "Somewhere Over the Rainbow" beautifully, even though she left many confused as to why she was there singing "Somewhere Over the Rainbow."
Meanwhile, Bette Midler sang the In Memoriam tribute. She dutifully belted out "Wind Beneath My Wings" and nearly brought every gay man both in the audience and watching on TV into tears. It was a touching moment, even if slightly awkward without Pink's acrobatic presence. (There's a time and a place to bring that back and the Oscars missed an opportunity.) 
As for click bait, Zac Efron, Michael B. Jordan, Kristen Bell, Channing Tatum, Chris Evans, Chris Hemsworth, Joseph Gordon-Levitt, and Emma Watson all showed up to present awards and gave us (lust) hope for the ghost of Oscar Future. 
Also, Brad Pitt ate pizza.
[Photo: Tumblr]
The Selfie
While Ellen was pretty subdued throughout the show (there was bits about pizza and not being losers), she did organize the greatest moment in Internet history. She gathered Meryl Streep, Jennifer Lawrence, Jared Leto, Channing Tatum, Julia Roberts (or Jessica if your Tyson Beckford), Frank Underwood, Brad Pitt, Lupita Nyong'o, Angelina Jolie and Bradley Cooper for the most epic selife ever. The moment, which happened live on air, was retweeted over 2 million times in the course of the night setting a new record for most retweets ever. (Now everyone's a winner, especially Samsung Mobile.)
The List of Winners:
Watercooler Talking Points: Gravity won 7, Dallas Buyers Club took home 3, 12 Years A Slave won Best Picture plus 2 more, Frozen landed 2 plus an EGOT for songwriter Bobby Lopez and Philomena was happy to be nominated. (Sorry, Phil.)  
Best Actor in a Leading Role: Matthew McConaughey, Dallas Buyers Club
Best Actor in a Supporting Role: Jared Leto, Dallas Buyers Club
Best Actress in a Leading Role: Cate Blanchett, Blue Jasmine
Best Actress in a Supporting Role: Lupita Nyong'o, 12 Years A Slave
Best Animated Feature: Frozen
Best Animated Short Film: Mr Hublot
Best Cinematography: Gravity
Best Costume Design: The Great Gatsby
Best Director: Alfonso Cuarón, Gravity
Best Documentary Feature: 20 Feet From Stardom
Best Documentary Short: The Lady In Number 6
Best Film Editing: Gravity
Best Foreign Language Film: The Great Beauty
Best Live Action Short Film: Helium
Best Makeup and Hairstyling: Dallas Buyers Club
Best Original Score: Gravity
Best Original Song: "Let It Go," Frozen
Best Picture: 12 Years A Slave
Best Production Design: The Great Gatsby
Best Sound Editing: Gravity
Best Sound Mixing: Gravity
Best Visual Effects: Gravity
Best Adapted Screenplay: John Ridley, 12 Years A Slave
Best Original Screenplay: Spike Jonze, Her