Jackie Collins: Queen Bitch
1.9.2013
By Maria Bustillos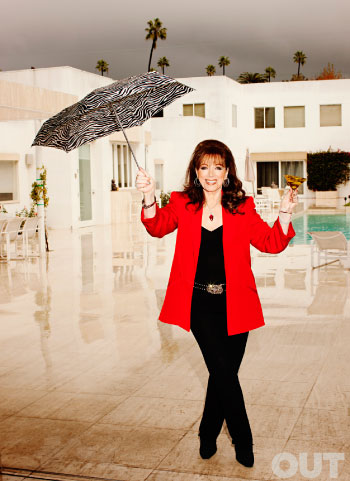 "I have a very positive outlook on life," Collins says. "You wake up in the morning and every morning is an adventure; you don't know what's going to happen that day. Things happen in a flash. I mean, I've had an Uzi held in my face by a masked gunman."
I read about that! And you escaped, like a hero.
"Well, because I was writing Lucky at the time -- I was writing a script for NBC and I was in complete Lucky mode, and so I thought, Fuck you, you asshole! With all that hate in your voice! I was scared after, but at the time I thought, This can't be happening, and there was so much hate in his voice -- that's what I remember more than anything. 'Don't move, bitch, or I'll blow your fuckin' head off.' Those were his exact words."
Wow! That is so central-castingly weird.
"Yeah! I wanted to say to him, 'Hey, buddy, that's really corny.' Talking of which, did you see Liz and Dick? Oh my god. I tweeted, and I said, 'It's pure ham.' "
Oh, and "with cheese"! I did see that.
"And I got an outraged tweet from some guy going, 'You slag. How dare you say bad things about Lindsay Lohan.' So you know, I tweeted him back -- usually, I never answer people like that. I said, 'Hey buddy, where's your anger coming from? I love Lindsay Lohan, I just hated the movie.' I thought, you know, Fuck you!"
People will say anything on Twitter. But do you find, when you answer your detractors, that they're immediately like--
"Oh they're like, 'Oh, I didn't mean it!' Exactly! 'Oh, I was just making a joke!' Yeah. Sometimes I block them."
You've got a katrillion followers!
"I know, it's lovely. It really is fun. And I enjoy Pinterest, too. Have you been on Pinterest? I've got a lot of boards. I've got 'Smokin' Hot': 140 incredible pictures of guys. You must look. Out of all of them, the most repinned is LL Cool J. He's got the greatest abs! It's so interesting to see who they repin and who they don't. And then I've got 'Fashion,' and I've got 'Dogs,' and I've got 'Food,' and I've got 'U.K.-centric,' and I've got 'Fans,' and I love it. I'm kind of addicted to it."
In addition to her vivid social media presence, Collins has a play in the works (Jackie Collins's Hollywood Lies) and several books, including a memoir, a cookbook, and a picture book called Hollywood Snaps. This, plus a full schedule of promotional activities and philanthrophic work.
Collins recently appeared in the third issue of Candy, the haute-fashion "transversal style magazine" by Luis Venegas.
"I much prefer to work with a gay photographer than a straight photographer," she says. "[Candy] is completely bizarre. Last time, he had James Franco on the cover, dressed as a woman… I did a six-page spread for them; we shot it here. Dressed as myself, but surrounded by the craziest gay male models. They had on backless -- not backless, um... assless pants. That's all they had on. Assless thongs. I'm putting makeup on one and I've got one on a leash. It's hilarious."
But once in a while, what this campy paragon likes best is to curl up with a good book.
"Reading is, today, a luxury. You've got the Internet, you've got movies, you've got television, you've got Sirius -- thousands of things, you've got magazines…"
And you want it all --
"And you want it all. I read Heartsick the other day, by Chelsea Cain. It's about a serial killer, but it was so good, and I was on a deadline and I thought, You know what? I am just going to lie here for, like, three hours and read this book. I'm just going to indulge myself. That is a very important thing in life. When you want to indulge yourself, do it. Because I work very hard, and if I want to spend a Sunday with no makeup on, lying on my bed, watching TiVo, eating chocolate, and reading magazines, I'm gonna fucking do it."