Last month marked the 25th anniversary of the first American video game to include a trans character. Gay and lesbian inclusion in video games has evolved greatly from the mid-'80s, when the first LGBT reference only included one-half of a lesbian couple, to today's games that give you the options to have your characters form relationships as you wish. For example, you can now marry whomever you want—regardless of gender—in The Elder Scrolls V: Skyrim. In Mass Effect 3 and Dragon Age 2 games, your selection of interactions between characters can lead to some pretty steamy scenarios. Inclusion of trans characters and themes is still on the low-side, but here we've gathered seven characters to know and love.
Super Mario: Birdo
As the first trans character, Birdo made her debut 25 years ago in 1988's Super Mario Bros. 2. In the released in-game description then, it stated that she was a boy who thinks he's a girl and likes to be called Birdetta and, from then on, Nintendo has usually been referring to Birdo as female. She started off in the antagonist team, but Birdo would eventually leave her evil ways and help Mario and Luigi, as she became a popular character from her inclusion in the Mario Kart series and other spin-off games. Birdo is often paired with Yoshi, and the two appear to have some chemistry.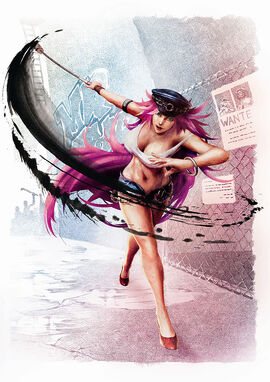 Final Fight: Poison
Birdo would not be the only trans character the '80s would see. Capcom's fighting series, Final Fight, introduced the skimpy dressed Poison who, like Birdo, started off on the antagonist team and was not playable at first. She was left out of the series until 1999, due to confusion of her gender. The questions of whether 'is she or isn't she' always remained in future inclusions, and Final Fight developers said it was up to the viewer. However, as Poison has made her way into other Capcom franchises, such as Street Fighter and its Versus series, Capcom producer Yoshinori Ono confirmed that Poison is officially a post-op transsexual (at least in North America). She made her first Versus series debut in last year's Street Fighter X Tekken, and will make her first canon debut in the early 2014's Ultra Street Fighter IV.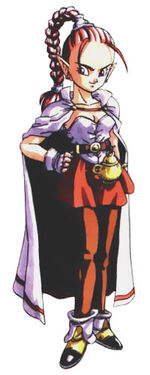 Chrono Trigger: Flea
Unfortunately all the early trans-friendly characters were villains, but in 1995's magical role-playing game, Chrono Trigger, we were introduced to the character named Flea (left), a magician of renowned boss-level strength in the game. Sportting pink hair, a skirt, and ample cleavage, he gave the greatest pro-trans video game line ever: "Male or female, what difference does it make? Power is beautiful, and I've got the power." Along with that, he also has a "diva form" in which his character sprite gives challengers a hardy laugh or blows kisses.
Final Fantasy: Quina Quen
Final Fantasy was already a strong franchise by the time they released 2000's Final Fantasy IX, which featured Quina Quen, a playable character from a genderless race who was referred throughout the game as she/he. As a comic relief character, Quina is on a eating quest to learn about world cuisine. She/he would eat enemies with a large tongue that's always hanging out, as the rest his/her race, and learn new abilities that way. At one point in the game, Quina can undergo a marriage ritual to male black mage Vivi, leaving it up to you to define the union however you'd like: same-sex, opposite-sex, or pansexual.
Guilty Gear: Bridget
Introduced in the third video game release from the Guilty Gear fighting series in 2002, Bridget (right) appears to be your typical tween, blond bounty hunter who likes to rumble in nun attire and use a yo-yo in combat—but there's actually a surprise under the hem line. Bridget is actually a boy who was raised a girl, and he doesn't change his image since it's his (plus he really likes the nun costume), but do not call him a girl because he'll correct you—and maybe pummel you with his giant teddy bear.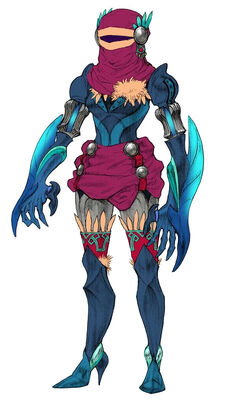 Baten Kaitos: Guillo
Dressed in a fierce getup, Guillo (from 2006's Baten Kaitos Origins) is a magical "puppet" who was infused with the combined might of two ancient sorcerers (male and female). Though labeled as a "puppet," Guillo shows all the emotions of a human being. With a feminine appearance, like those deadly boots and the mini, Guillo speaks with the voice of both a man and a woman and is technically gender neutral. All of Guilio's attributes make him/her a magical transgender character—of sorts.
Tekken: Leo
Making his debut in 2007's Tekken 6, Leo sparked up some controversy for the fighting series with players questioning Leo's gender, as it was never disclosed (referred to only by name or gender-neutral terms and outfitted in unrevealing clothing). The reasoning behind making Leo's gender ambiguous is attributed to the Bandai-Namco team that wanted to create a character that would be cherished by fans regardless of gender (making Leo a trans-friendly character). However, in 2011's Tekken Tag Tournament 2, Leo was revealed to be female, and her full name is actually Eleonore. As the series continues to evolve, and Eleonore is still fairly new...who knows what else will be revealed.
Andrew Villagomez is an entertainment, travel and men's lifestyle writer and editor. He tweets at @AndyVeeNYC, and his blog, Vee Travels, focuses on men's fashion and gay travel.