1. Salvator "Sal" Romano 
Sal, the Italian-American, Ann Margaret-loving art director of Sterling Cooper, was the original gay character of Mad Men. A gentle man with a friendly smile, Sal walked around the office swigging liquor with the boys and making jokes about the girls. When Eliot Lawrence of Bell Jolie cosmetics asks him to come up to his hotel room, Sal admitted that he wanted to but was too afraid. Hearts broke for the sweet, sad man trapped in 1960s homophobia, and when he finally got the courage to sleep with a bellboy, he was caught in the act by his boss, Don Draper.
In season 3, Sal was approached by the firm's most important client, Lee Garner Jr. of Lucky Strike Cigarettes. Sal rejected his advancements and Garner has him taken off his account and then fired all together (after Don Draper implied he should have taken one for the team).
Audiences mourned the loss of Salvatore. He would be remembered for his rendition of Bye Bye, Birdie, his authority on which women are Jackies and which are Marilyns, and his admiration of Ken Cosgrove. In a perfect world, the two could have choreographed a lovely duet together.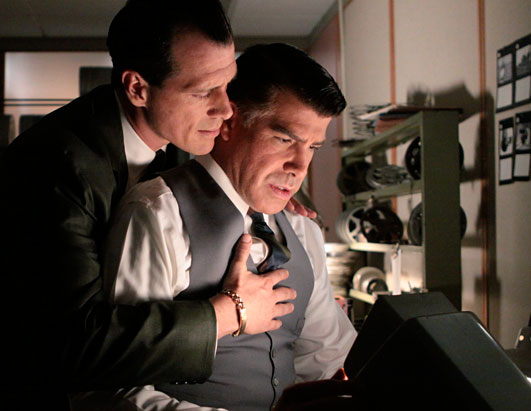 Lee Garner Jr.
The aggressive, closeted, entitled bisexual heir to the Lucky Strike fortune was also responsible for bullying when he didn't get his way: He was the one who got Sal Romano fired. We hate him.
In the most recent episode ("The Quality of Mercy"), the boys were exchanging horror tales of difficult clients after Ken Cosgrove was shot in the face. Roger Sterling offered: "Lee Garner Jr. made me hold his balls." To which viewers nodded, "Uh huh, yes. That checks out."
Carol
In the first season, Joan's roommate confessed her love for the bombshell.  In a heartbreaking scene where lesbianism must remain hidden and defined by heterosexuality ("Just think of me as a boy"), Carol confessed to Joan how beautiful she is and how happy she was when she's around her. At least Joan tried to be kind as she changed the subject.
Kurt Smith
Kurt is a designer from Germany who was hired with his creative partner Smitty Smith. He's the first out and proud gay character of the series. Kurt and Peggy became friends and, when the two of them traveled to the Village to see a Bob Dylan concert, giggles bubbled up around the office. Kurt then assured everyone that he was homosexual and nothing happened between him and Peggy.
Ken: I don't think that means what you think it means. 
Kurt: I make love with the man, not the woman.
Joyce Ramsay
There's not much to say about the badass Joyce Ramsay (played by Zosia Mamet pre-Girls fame), so we'll leave you with the photo above and this dialogue.
Peggy: I have a boyfriend.
Joyce Ramsay: He doesn't own your vagina.
Peggy: He's renting it.
Anna Draper?
Anna is the Original Donny D.'s widow. She is the angel of dark, destructive Don (Dick Whitman) Draper's life; the mother figure he longs for. She's the only person that calls him by his true name, and the only one who can honestly say to him, "I know everything about you and I still love you."
She is arguably the most important woman in his life and the only character who comes close to convincing Dick Whitman that he is worthy of love. Normally, when Don finds sanctuary in a woman, his mommy issues get wound up in his sexuality and he must bone her pronto—but not Anna. If she were a lesbian, it would at least explain why neither character ever buried his or her grief/loneliness in each other's nether regions and would give Don a pretty clear boundary in their relationship.
We also know from her back-story that the real Don Draper was originally interested in her sister, (perhaps because he picked up on some vibes). It may not even be a stretch to believe that she made some sort of deal with him the way she did with Dick in order to live her non-traditional lifestyle. As far as we know, she never re-married or seemed interested in having a man in her life. She introduced Don to her college-aged niece, knowing full well that they would be interested in each other, and it seems likely that her openmindedness about proscriptoins around sex and age could be paired with an open-mind toward sex and gender.
Queer or not, the next time you're drinking heavily, remember to pour one out for Anna Draper. Miss her.

Arlene
In a recent episode, while Don was taking a trip down memory lane with his ex-wife, Megan Draper was getting professional help from a fellow actress and soap opera star Arlene. Arlene and Megan sat in an empty apartment together, sharing two bottles of wine while Don was away. Arlene leaned in to kiss Megan, but Megan turned her head. And then Arlene leaned in again, and Megan turned her head. And then it happened once again.
Arlene then left the apartment with her head held high and told Megan to forget about.  "Status quo, antebellum," she said (which translates as the state existing before the war and meant that they would forget about all those advances).
Manolo?
The nurse to Pete Campbell's aging mother, when Pete discovered that Manolo had been "taking advantage" of her and confronted Bob Benson about it, he responded, "I don't think Manolo's interests turn that way."  Manolo's homosexuality was again mentioned in episode 12 when Benson reassured Pete, "Manolo doesn't like women." 
It's hard to tell why Benson would exaggerate this point again and again (perhaps to distract from Manolo's true intentions of marrying Pete's mother?) or if it's even true. One the one hand, Benson is a liar. On the other, Manaolo does have quite a well-groomed moustache.
Bob Benson?
In the episode "Favors," the mysterious Bob Benson sat next to Pete Cambell, the man he has been waiting on hand and foot, widened his big brown eyes, and said slowly, "Is it really so impossible to imagine? Couldn't it be that if someone took care of you, very good care of you, if this person would do anything for you, if your well-being was his only thought, is it possible that you might begin to feel something for him? When there's true love, it doesn't matter who it is." 
He then gently bumped his knee with Pete's. Immediately, bells went off. There's a new gay character on Mad Men! Sound the alarms!
Not so fast: Many believe this was a misdirection from Weiner, written to distract the audience from speculating about Benson's real secret. Maybe he's a spy and hired Manolo to gain more secrets about Pete. Maybe he was just trying to psych out a man that stood in his way of success. Or perhaps Bob is such an opportunist that he took a chance—maybe he thought that offering sex would get him somewhere professionally.
Matthew Weiner on this "Inside Episode," explains, "Bob Benson is a ambitious person that we've seen—to comic effect—using everything he can to climb, but one of the things we know is that he has gone out of his way to take care of Pete.  And Bob is doing all these things for a very personal reason."
The most obvious personal reason would be Bob's romantic interest in Pete, but audiences know that Weiner doesn't usually go with the most obvious reason. Some viewers, like Jaime Woo at Huffington Post, were upset by the notion that Bob couldn't just be a gay character without also being a villain like many have suggested. Maybe the idea that he has to be up to something without also having feelings for Pete is selling the show short. It might be too one-dimensional to assume that he can't be both infatuated with Pete and out to get something from him.
Weiner continued his explanation with: "I don't know if Bob is necessarily gay, but I think he is infatuated with Pete and wants to be Pete and I don't think Pete is horrified or shocked, but he's now in a situation in business where someone has really infiltrated his life… What I wanted to say was there's this pure expression of love—and who doesn't need love?—and Bob is offering that to Pete, and Pete is so needy at this point, so alone, but I think we get a sense of catastrophic results of expressing your real feelings."
For a man who has been recently heartbroken, kicked out of his home, and told by his mother, "You were always unlovable," an expression of love would be hard to turn down. But if using sex to get ahead was Bob's motivation, it didn't work.  
In the finale, we witnessed yet another possible motive behind this knee-to-knee action. Manolo married Pete's mother just before she fell (or was pushed) into the ocean. Pete seemed to believe Bob was after his family's money all along. Perhaps he wanted Pete to fall in love with him and that would allow him to get to this money? Perhaps he wanted to distract him from this plan?  
Also what is he doing with Joan? Are they really "buddies"?  Remember when Ginberg made a jokes about his sexuality?  What is happening? Benson—his motives, his identity, his sexuality—is still a mystery.