The Starter Marriage
8.7.2012
By Shana Naomi Krochmal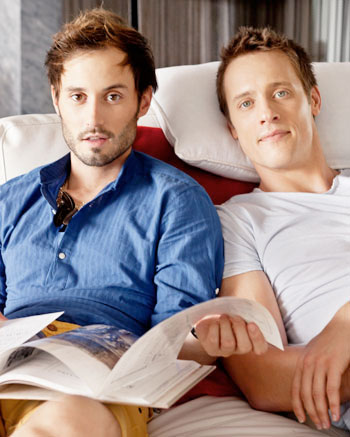 Brad Bell (left) and Sean Hemeon / Photography by Juco
In the whirlwind first season of Husbands, Cheeks (an actor-slash-tabloid-sensation) and Brady (an ex-Mormon dreamboat baseball player) start off celebrating marriage equality and wake up married in Las Vegas. They're both out but barely know each other; a quickie divorce, they decide, would be bad for the cause.
"What do you two know about being married?" they're asked, and the best Cheeks can come up with is: "I never thought past wanting the right to do it." Ever the post-game role model, Brady says, "So important. So abstract. Uh..." They suffer through a first fight and make a surprisingly sweet stab at compromise and cohabitation.
It's cute and crackling cultural commentary with the quick-step energy of classic screwball comedy -- all in 11 webisodes that each run about two minutes. Added up, the indie series's entire run is only the length of one episode of a prime-time sitcom, even though each installment packs enough punchy plot to have played out in typical broadcast time. Packaged instead as a rapid-fire series of quickies, it scored more than half-a-million views in six months and glowing reviews from such old-media stalwarts as The New Yorker, and inspired almost 1,000 fans to cough up $60,000 to help fund another season.
The second time around, the show has evolved along with the average Internet user's attention span, and three eight-minute episodes will be set only a few weeks after the first season's end.
"Brady and Cheeks are not doing anything that any normal married couple wouldn't do," says Brad Bell, a.k.a. Cheeks co-creator, executive producer, and star of the show. "But there seems to be a certain amount of criticism and pressure on them. They come under fire from straight people and from gay people."
Bell's partner in crime is Jane Espenson, a longtime TV writer known for bringing a geeky, heartfelt voice to shows from Buffy the Vampire Slayer to Caprica and ABC's Once Upon a Time. "We noticed certain reactions to Husbands and decided to put them in our show," Espenson says. "People saying, 'That's not acceptable,' or 'That's too gay,' or 'That's not something America can handle.' We think that it is acceptable, and America can handle it."
Bell has been cultivating Cheeks's snarky YouTube persona for years. Bell's videos and Twitter bon mots caught Espenson's eye. "I was curious -- who was this person who had at his age accumulated writing skills that had taken me 20 years?" she asked.