Gangland Style
2.19.2013
By Paul Flynn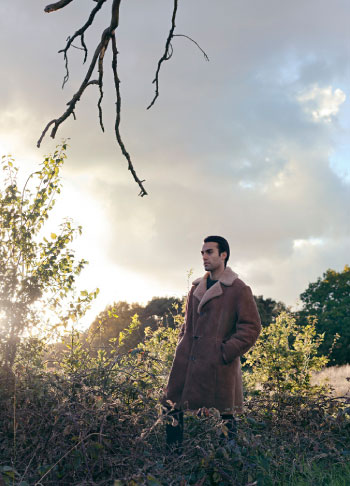 To pen the story for My Brother the Devil, first-time British-Egyptian director Sally El Hosaini schooled herself for three years in gangland ethos, going native in the underworld. She'd planned to street-cast the movie, in the manner of the 2002's masterful Brazilian crime drama City of God.
"But she found out," Floyd explains, "that all the boys in this world were homophobic -- extremely -- and there was no way she could get one to play my role."
Taking the director's cue for authenticity, Floyd spent six months palling around with gang members. "The only way to do it was to go 'method' on it," he says, remembering one afternoon near Ramadan, sitting in an illegally occupied Dalston council flat watching the cartoon Family Guy. When a male character began playfully rubbing another's nipples, "the whole room went schizo," he says. " 'Faggot!' this, 'faggot!' that. 'What the fuck?!' They turned it off and didn't watch it again. They felt violated."
But what he learned from this experience chimed exactly with El Hosaini's script in ways he couldn't have conceived. "This world is also the most homoerotic world," Floyd says. "These men are constantly flirting with each other, all over each other physically. There's only boys -- no girls. I knew Sally had hit on something truthful. It's not contrived at all." Other ironies surfaced, he explains: "I saw that a good 20% of the hipsters these guys are dealing to are camp and/or gay. Sally went into the gangs, got to know them, and understood they're just like anyone else. They're happy; they're sad. They're scared that they won't get a job because of the economy. They're terrified they're not going to fall in love."
The resulting work feels like a classic, swerving from the dank atmospherics of the gangster genre and flooding the screen with color, passion, and a poetic commentary on the constraints of modern masculinity. Floyd shines in a role he believes he was born to play.
On the back of My Brother the Devil, Floyd was cast in the BBC biopic Best Possible Taste, about the anarchic '70s and '80s comedian Kenny Everett, one of Britain's first prominent figures to die of AIDS-related complications. He played Everett's friend, Queen frontman Freddie Mercury. Queer roles continue to fascinate him. "Many of my friends have fallen in love with people of both genders," he says. "I have -- whatever 'love' means. I feel like I'm in love with my best mate. Ultimately, what difference does it make that somebody is making love to someone of a different gender than you? There is no rational way of starting that argument."
SLIDESHOW: More British Actors, including Sam Barnett, Bill Milner, Olly Alexander, and Luke Pasqualino
Watch the trailer for My Brother the Devil below: