Jackie Collins: Queen Bitch
1.9.2013
By Maria Bustillos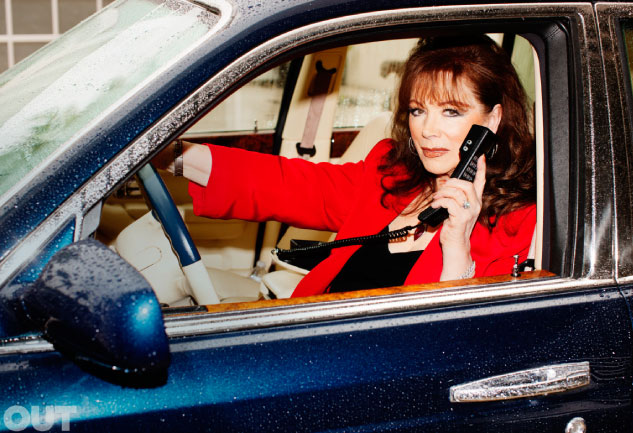 Photography by Tony Kelly
The late film director Louis Malle once referred to Jackie Collins as "a raunchy moralist." She recently told me, "It's my favorite description of me."
I can't say I agree, exactly. The best-selling author of 29 books that have sold in excess of 500 million copies seems to me far more elegant than raunchy; she is gentle and beautiful, with a soft voice and an irresistible laugh. OK, she can be a little salty! -- but in such a charming way.
Collins's 29th book, The Power Trip, comes out in February. It's an unabashedly escapist, juicy read: There's the Russian billionaire; the gay Latin singing sensation, Luca Perez; a gang of Somali pirates; a dashing, globe-trotting journalist; and the world's top supermodel. It's a fun book with a very satisfactory ending that cries out for a sequel. "Does exactly what it says on the tin," as they say in the author's native England.
We speak in the library of Collins's gorgeous house in the Beverly Hills flats, a white, white, classically minimalist palace she designed herself in a style recalling that of legendary '80s interior designer Kalef Alaton. The front door, guarded by twin panthers, opens onto a vast marble foyer off of which is the library, a handsome, warmly lit room with soft leather sofas, animal-print throws, and wonderful sculptures: golden panthers, a Buddha or two. The books reach to the ceiling, and there are hundreds of framed photographs lining the shelves. It's romantic, fun, worldly. There's a lovely Biedermeier desk from the Paris flea market at Clignancourt -- Collins's favorite place in the world, she says. Like the author herself, this room evokes both drop-dead glamour and a sensually inviting, approachable warmth.
Collins is very much of the world she writes about. Her sister is Hollywood legend Joan Collins, and Jackie herself did some high-profile acting early in her career -- for example, opposite Roger Moore in The Saint. Her late husband, Oscar Lerman, owned and operated London's most famous celebrity-studded clubs in the '60s, '70s, '80s, and beyond: Dollys, the Ad Lib, and Tramp. The absolute verisimilitude of Collins's over-the-top portraits of celebrity and wealth is perhaps the source of her lasting power and influence in Hollywood, where eight of her books have been made into movies and TV series.
Collins has always used her Hollywood mojo to promote a message of equality and tolerance. There's a sad personal reason for her strong advocacy of gay rights.
"When I was 15 and thrown out of school, I went to a drama school, a preparatory academy in England, and there was this lovely guy there called Peter," she says. "He was my first gay crush, really, and we got along like a house on fire -- and one day he committed suicide. And that made me think really deeply about the problems that some poor guys go through when they want to come out.
"I'll never forget Peter," she says. "He was so good-looking; he had curly hair, and he was tall and lovely. He just couldn't come out, and then he killed himself. He must have been about 17, maybe."