Remember Blake McIver Ewing? OK, probably not. Remember Derek Boyd, Michelle's frenemy on Full House? Or Waldo in The Little Rascals? Anything? OK, to better refresh your memory: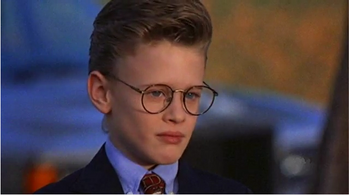 (The Little Rascals)
And now he looks like:
(GIF via Buzzfeed)
Hello, hello. Ewing's turned into quite the Ken doll. Did I fail to mention he's also gay and out and made an "It Gets Better" video a couple years back?
In the clip, Ewing performs a song he wrote himself. He explains the story behind the performance in the YouTube summary:
"This is a song I wrote for anyone who has ever been bullied or taunted or made to feel 'less than' by others. When I was fourteen I came very close to becoming a gay teen suicide 'statistic' but I then turned to music, my piano, my loved ones, and discovered that it does in fact get better. But that being said, I believe we must raise awareness to protect the LGBT teens who are still being physically and verbally assaulted and fear for their lives every day. We also have a responsibility to end this suicide epidemic. It won't get better unless we all fight to make it better! Thank you for listening."
So, what's the child-star-turned-perfectly-coiffed-haired-hunk up to these days?
Other than taking sexy selfies such as this on Twitter: 
Ewing is now a host on Bravo's The People's Couch, a new, three-episode social docu-series, which premiered October 6 and features TV viewers funniest quips about the week's best shows. Ewing comments couch-side with his friends, bringing plenty of sass, muscles, and cheekbones to the living room.
Check it out below:
[H/T Buzzfeed]