Rocky Mountain, Brights and Darks
3.18.2013
By Andrew Belonsky
Wyoming's made of moments like this: ones unexpected and contradictory and grim and beautiful all at once. Game reserves set aside to shelter deer and elk dispatch hunters to clear out populations swelled and bloated by government-provided feed. The Grand Teton Mountain Range, byproducts of savage tectonic thrusts, get their grace from their jagged edges. Like a rose's thorn, these protrusions will draw blood. (In 1996, a secret service plane sent ahead to prepare President Clinton's 50th birthday in Jackson Hole crashed into the side of a mountain quaintly referred to as Sleeping Indian. Nine people were killed.)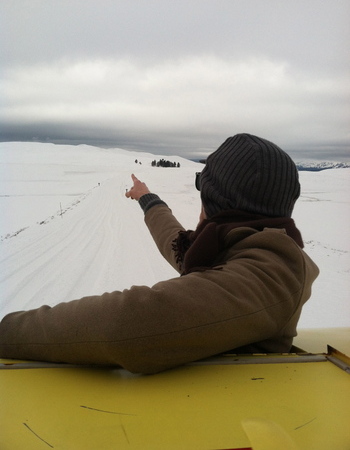 Beneath the firry lodgepole pines, with their trim, clean trunks, churn some of the world's most volatile geothermal chambers. The region, technically a super volcano, last erupted 640,000 years ago, creating a caldera, or land collapse, 45 miles wide. Another such explosion would end life as we know it. Luckily for every living thing, the pressure's diffused by hot springs and geysers tinged neon by toxic algae. They pepper this landscape like glorious pocks, and one such rupture, Kelly Warm Springs, doubles as a home for locals' unwanted tropical fish. The displaced creatures are blissfully unaware that winter rages outside their waters, and it's taking no prisoners.
Wind whips mercilessly and evergreens labor under hefty snowfall while deciduous cousins like the cottonwood stand frozen, appearing empty and incapable of life. But there's no stink of death here. Mule deer, with their white, coquettish tush, hop and trot about the valley as massive moose search for shrubs under snow fields made blindingly bright by the winter sun. Trumpet swans churn up muck in shallow rivers and big horn sheep give us the stink eye from craggy peaks, looking away only when a golden eagle swoops through the crisp, biting cold.
A massive creature with an up to seven foot wing span, the golden eagle has no qualms about taking on the larger, heavier sheep. The clever bird snatches the unlucky beast in its talons and drops them to the rocks below, letting gravity do the dirty work. They're far bolder and stronger than the more famous bird we saw gliding nearby, the bald eagle. Our national mascot has such a wimpy screech that Hollywood replaces it with the more robust and fearsome caw of the red tail hawk, and it's a scavenger, not a hunter (a taker, not a doer), which makes it's revered status even more incomprehensible. Maybe we should all take our cue from the playful river otter. He's adorable and has a great sense of humor. He lets a hungry red fox get within striking distance and then dive into the frozen river, popping up a few yards away — laughing as he bites into some freshly caught fish.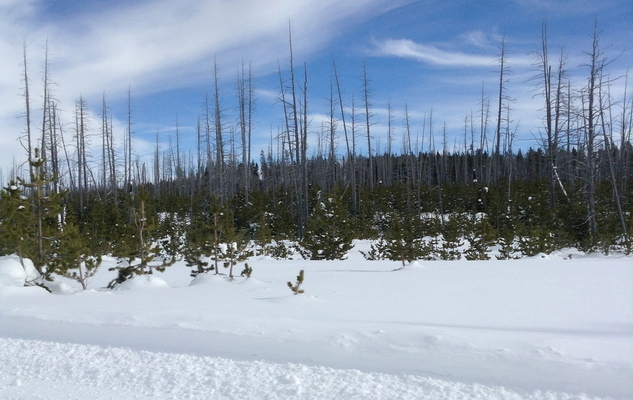 Vast swaths of the Northern Wyoming tree line are still scorched from the great wild fires of 1988. Though new trees are slowly coming into their own, charred detritus dominate much of the horizon in and around Grand Teton and Yellowstone Parks. The majority of the fires were caused by lightning, but the largest, the one that burned 504,025 acres, was caused by a cigarette. I remember the startling contrast of dead, ghostly shells and flourishing newcomers from when I first visited Yellowstone as in the summer of 1997, only a few months before I myself became a smoker. I was nearly sixteen years old and on a five-week tour of the region with my Minnesota-based summer camp. In addition to taking up smoking, I would soon take up drink and drugs, kicking off a nearly 15-year career of substance abuse that ended almost 8 months to the day of my return to Yellowstone this past January. I was and am still very much in recovery.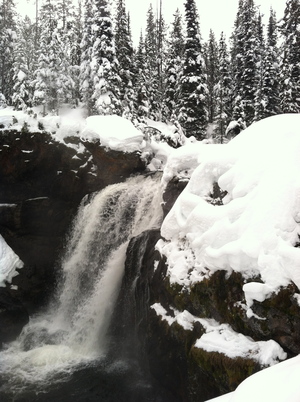 Cruising through Yellowstone proper in a bombardier, a treaded, tank-like vehicle capable of taking us into parts of the park few people dare visit in the dead of winter, I felt for the seared, singed trees standing against the oppressive winter backdrop. I remembered the good days, the days I sipped fine wine at swanky movie premieres, and the dark days, the days I scraped together pennies to buy cheap whiskey I would then drink in a darkened room, alone. I remembered how free I felt as I swigged from bottles and ran around my bucolic college campus, and then I recalled being trapped in a dive bar bathroom, trying to scrape together lines of cocaine as a bouncer banged furiously on the other side of the door. I remembered my final days as a drinker, when all I saw was darkness, when I was as burned out and gutted as the trees.
Like my addiction, my sexuality remained dormant in 1997. I wouldn't become fully aware of and act upon my attraction to men until the following year. So that summer of 1997 I had no inkling that President Clinton had signed the Defense of Marriage Act, nor did I pay much mind one year later, when Matthew Shepard was murdered in Laramie, about six hours south of Jackson Hole.
The city now hosts an annual Shepard Symposium on Social Justice that includes a performance by Elton John and a reading of Annie Proulx's Brokeback Mountain. That story, published almost exactly one year before Shepard's death, also ends with a senseless anti-gay murder in Wyoming.
This year alone the Wyoming House has just rejected two bills that would have allowed domestic partnerships and same-sex marriages and the state Senate voted against a measure that would have prohibited discrimination based on sexual orientation or gender identity. And despite being the epicenter for the national debate about hate crimes, Wyoming was one of the five states not to have their own hate crimes legislation in place when President Obama signed the 2009 Matthew Shepard and James Byrd, Jr. Hate Crimes Prevention Act into federal law. You can allow yourself an unapologetic chuckle over the juxtaposition of Wyoming's two most popular nicknames, the touchy-feely "Equality State" and the rootin', tootin' " Cowboy State."