Robbie Rogers: The History Maker
7.11.2013
By Matthew Breen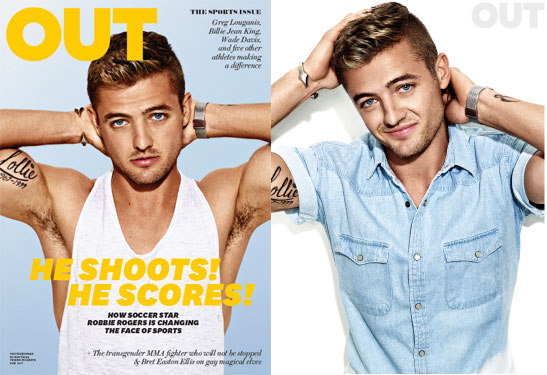 Photography by Matthias Vriens-McGrath
On February 15 of this year, at the age of 25, Robbie Rogers made a dramatic announcement on his website: He was gay, and he was quitting soccer. The two points were not unrelated -- no male American athlete in a major team sport had come out while still playing professionally (although gay-friendly Sweden set a precedent when soccer player Anton Hysén came out there in 2011). Then in May, Rogers reversed course on one of those announcements and signed to the Los Angeles Galaxy.
He was no longer a gay retired soccer player; he was a history maker -- just six months after coming out to his "conservative, Catholic, close-knit" family. "Growing up, I learned that being gay was a sin," he says when we meet at Soho House in Los Angeles. "It was not something you could be, and it wasn't something my family would talk about much -- it was obviously something that scared the shit out of me."
It's only been a few weeks since he had his first match as an out gay player (stepping onto the field 13 minutes before the final whistle), and it's clear that Rogers, who grew up in Orange County, has embraced his newfound role with gusto. Having played for one of the world's most decorated teams -- England's Leeds United -- as well as for the U.S. squad at the Beijing Olympics, Rogers, now 26, is in the rare position of being able to inspire young gay athletes by his example. Being invited to attend the Nike LGBT Youth Forum in Oregon in April was a wake-up call, he says. "I left the summit thinking, Come on, step up -- all these kids are so excited to make a change, you should also. God's given you the talent to be a soccer player, to be in front of people just to show them who you are."
Who he is, who he was, and how he got from one to the other is the subject of our conversation as Rogers opens up in a candid, thoughtful interview that reflects the emotional distance he's travelled since hitting "send" a mere five months earlier.
Out: You told one reporter you felt different around age 10, like a part of you knew.
Robbie Rogers: I felt different for a long time, but when I was 14 and going to high school, I was like, Oh, OK. This is what's going on: I'm gay. And then it was, I'm good at soccer as well… there are no gay soccer players.
Did you keep them separate in your head?
RR: I just repressed being a gay male, as awful as that sounds. I look back now and think, Gosh, that's sad. To think there are other kids [feeling] like that is really scary, but I just felt that soccer was so important in my life that I was willing to do it.
There must have been accomplishments that you couldn't enjoy because you were closeted.
RR: I'd turned into a professional player -- something I'd wanted my whole life -- and wasn't able to soak it in because I shut down emotionally and didn't get to feel all of the emotions I would have as a normal person who's happy with himself. Winning the MLS [Major League Soccer] cup, or being on the All-Star team, or going to the Olympics -- those should be things you can be happy and excited about, but you're still hiding inside yourself and you're not comfortable in your own skin. Or moving to England and signing with Leeds, or even stuff like my sister getting married, or little birthday parties.
Playing soccer in the U.K. is very different from the U.S., right?
RR: Yeah. Imagine an American football game, but on steroids. People live and die for soccer; they breathe it. It's insane. The club you grow up supporting, that's the club you will do anything for -- you bleed whatever colors that team is. People will say anything to the opposing team to justify… to hopefully get an edge. The fans will call you anything, say anything about your parents or whatever.
So I imagine you heard a lot of antigay--
RR: Yeah, you'd hear the most ridiculous things from kids. And the crazy part is these people aren't homophobic, a lot of them aren't racist. But they get into this packed stadium where they're just trying to win and destroy people -- manners and humanity are just gone.
It's got to get into your head, thinking about coming out.
RR: The biggest thing for me was being in the locker room, again, with a group of guys. Because those are the guys you're with every day; they become like brothers, guys that you fight and train with every day. I didn't want to be in a situation where I was a total outcast, where people would be walking on eggshells around me, talking behind my back. They haven't, but that possibility scared the shit out of me. It was like, I don't want it to be like that, I don't want to live my life that way.