Two Men Talking: Edmund White & John Irving
5.4.2012
By Edmund White and John Irving
Photography by Peter Ash Lee
The novelists Edmund White, 72, and John Irving, 70, might not seem an obvious match, but their decades-long friendship is rooted in a shared interest in challenging America's puritanical attitudes. In one book after another, these literary lions have explored sexuality and identity in ways that challenge readers to examine their own prejudices.
White's debut, Forgetting Elena -- a mystery set on an island that thrums with Fire Island's all-too-familiar rituals -- was published in 1973. But it was his 1982 novel, A Boy's Own Story, that cemented his place as America's preeminent chronicler of the gay experience. His latest, Jack Holmes & His Friend, was published in January.
For Irving, international success arrived in 1978 with The World According to Garp, now published as a Modern Library edition, along with three of his other celebrated works -- The Cider House Rules, A Prayer for Owen Meany, and A Widow for One Year. His latest, In One Person, tells the story of a bisexual man attracted to men, women, and transgender women. Here, the two men discuss sex, gender, and why breasts separate gay men from straight.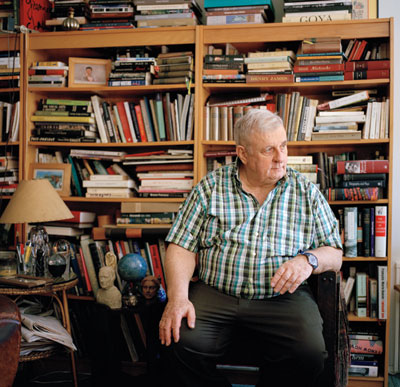 Edmund White in his Manhattan apartment
EDMUND WHITE: In an old email you point out that having a gay son has not "converted" you to the theme of homosexuality, since there is already a gay brother in The Hotel New Hampshire, and that "nonpracticing homosexual" in Owen Meany, and the gay twins in A Son of the Circus. But having a gay son, you concede, might have made you want to write In One Person next -- so that your son, Everett, could still read this book while he was young. Everett has obviously been on both our minds. In my novel, Jack Holmes & His Friend, the character Palmer is based a bit on Everett, and even shares with him a taste for the theater. One reader suggested that having a gay son was my "revenge" on my straight character, Will. I was shocked by that idea, since having a gay son scarcely seems a "revenge" on a character, especially such a handsome, exciting son. Is Everett an "ideal reader" of your book -- or do you not think in those terms?
JOHN IRVING: The dedication to Last Night in Twisted River reads: "For Everett -- my pioneer, my hero." And the novel before that one, Until I Find You, is also dedicated to him: "For my youngest son, Everett, who made me feel young again." When Everett told me he was gay, I told him that I loved him more for it; I knew he would have a harder time in the world because of it. I wanted him to know how very proud I am of him, and how much I love him for who he is.
But I didn't write In One Person because I have a gay son. This novel isn't about that; it's about a young bisexual man who falls in love with an older transgender woman. The bi guy, Billy Abbott, is the main character, and two transgender women are the heroes of the novel -- in the sense that these two characters are the ones my bisexual narrator most looks up to. I was taking notes on In One Person for several years before I knew Everett was gay.
Yet, as you say, having a gay son made me want to write this novel sooner rather than later; I remember wishing that Everett could read In One Person while he was still in his late teens or early twenties. However, I begin a novel on the basis of how rock-solid the ending is to me -- on the immutability of those final sentences or paragraphs. Like Cider House, like A Widow for One Year, this novel has a dialogue ending -- the repetition of a line of dialogue the reader has heard earlier in the novel, but in a different context. When Billy calls Miss Frost a "transsexual," she replies, "My dear boy, don't put a label on me -- don't make me a category before you get to know me!" That's the line Billy repeats to Kittredge's angry son at the end. I simply had to have that ending before I chose to make In One Person my next novel. No matter how much I may have wanted to write In One Person for Everett, I couldn't have forced it. I was lucky that the ending came.
At 20, Everett's privacy should be respected. He's proud of who he is (as he should be); he loves In One Person, and he loves me. You and I shouldn't make too big a deal over Everett's connection to yet another novel by his father on the subject of sexual intolerance; in fact, this novel's relationship to several of my earlier novels is obvious -- most directly to Garp and Cider House, but also to Owen Meany. And Miss Frost (bless her heart) would definitely chide us, on the subject of Everett being gay: "Don't put a label on him -- don't make Everett a category before you get to know him!" she would say.