If any LGBT-themed film seemed pitch perfect for an operatic retelling, it was Ang Lee's Brokeback Mountain, based on the short story by Annie Proulx. The epic but ultimately tragic romance between Jack Twist and Ennis del Mar is one of the most deeply resonant love stories in modern cinema. While the Madrid production may have missed a few notes in translation, it could open the gates for more operatic adaptations from the queer film canon.
Before we begin, it's important we make a distinction between musical theater and opera. In truth, there's an ever thinning line between the two, especially as they mix and borrow stylistic elements from one another. The "rock-opera" being the most egregious example. But perhaps Anthony Tomasini put it best, writing in a 2011 New York Times article, that "in opera, music is the driving force; in musical theater, words come first."
Though infinitely quotable, Mean Girls probably wouldn't make a great opera…but it is purpotedly coming to Broadway as a musical. Try as they might, they're never going to make a song about "Fetch" happen on the opera stage. These 5 LGBT-themed films, however, are high on drama and their themes of lust, murder and betrayal make them perfect for the emotive wonders of opera. Strap on your viking helmets 'cause these shows ain't over till the fat drag queen sings.
1. Paris Is Burning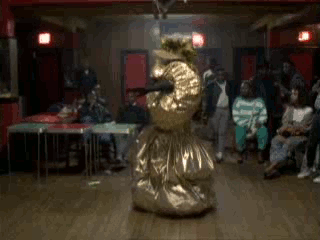 [GIF Source]
Jennie Linvingston's iconic documentary has had a long life after its initial 1990 release, including the recent interactive play by New York's LiveIn Theater, The Murder of Venus Xtravaganza 1988. Imagine Angie Xtravagnaza singing an aria lamenting the loss of her beloved daughter and Pepper LaBeija making this entrance onto the stage, thus giving Maria Callas a run for "Queen of the Night."
2. My Own Private Idaho
[GIF Source]
The adventures of a gay, narcoleptic street hustler may not strike you as classically "opera," but Gus Van Sant loosely based his 1992 indie classic on Shakespeare's Henry IV and V. The Bard's pedigree aside, the unrequited romance at the film's heart is as classic as you can get, even if the object of River Phoenix's amorous affection is Ted "Theodore" Logan.
3. Behind the Candelabra
[GIF Source]
If there's anything more over the top than opera, it's Vegas in the late 70s. Liberace's mythically grand life was already the subject of an opera 20 years ago, while the rise and fall of Scott Thorson, as depicted in the award-winning HBO biopic, has shades of Greek tragedy. If the ancient Greeks had cocaine.
4. Showgirls
[GIF Source]
You know what the opera stage has been missing all these years? A stripper pole. Paul Verhoven's overwrought 1995 "film" — I use the term lightly — got the unauthorized musical parody treatment last year but opera could really elevate Nomi Malone's story to the level of high art where it so justly belongs. It's like Bizet's Carmen with less (or more?) slut-shaming. "I'm a dancer!" could very well be the new "Toreador Song."
5. The Hours
[GIF Source]
Based on Michael Cunningham's Pulitzer Prize-winning novel, the 2002 Stephen Daldry film is basically two hours of "EMOTION!" Tears, breakdowns, more tears and a prosthetic nose — ingredients for operatic gold. And look no further for casting. Just give Meryl three weeks and a pack of lozenges.
Enough of all this wishful thinking. Let's get back to basics with Maria Callas...