Rob James-Collier: Oh, You Handsome Devil!
1.3.2013
By Aaron Hicklin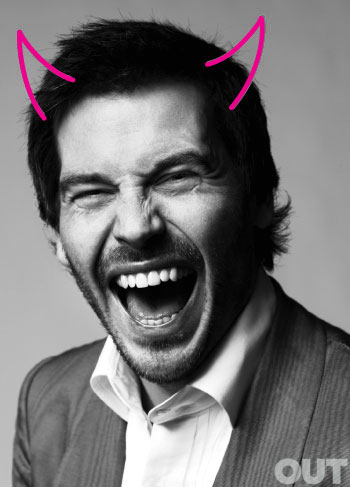 Photography by David Bailey
Styling by Julian Ganio
Last March, when The New Yorker's Ian Crouch declared an "epidemic of Downton Abbey fever," he wasn't wrong. The show has been nothing short of a phenomenon, a runaway success for dowdy old PBS, far outpacing in ratings that other popular period drama, Mad Men. It's a classic tale of love and fortune with a fundamental mystery at its core, namely: How can something this schlocky be this good? Maybe it has something to do with its formula, equal parts high class to high camp (yes, Dame Maggie Smith, we're looking at you); or its bucolic English setting; or, more likely, its blatant appeal to our closeted hankering for a butler fully versed in the art of decanting vintage port. After all is said and done, who has not wished that they, too, could be in the position to declare, like the Dowager Countess with her imperious mix of disdain and perplexity, "What is a week-end?"
Indeed, what is a weekend without Downton Abbey to cozy up with on Sunday nights? And here it is, back again to keep winter from the door—season 3, and with it the Roaring Twenties to blow away the agony of war and the insult of rationing. Expect flappers and the Charleston, and a Marcel wave or two.
Let me come clean: I haven't seen a preview of season 3 -- in my home that would be cheating; it's what we still call appointment TV -- but I have it on great authority that this is the season in which that villainous gay footman-turned-valet, Thomas Barrow, experiences the tender love that his poor, neglected heart so craves and needs. It's about time. His dalliance with the Duke of Crowborough in the opening episode of season 1 turned out to be a tease. He ended season 2 in the arms of the Dowager Countess, twirling around the dance floor at the Christmas party like a neuter content to spend his prime escorting ladies of a certain age to the ball.
We should have known that creator and writer Julian Fellowes would not disappoint. Season 3 is where it all changes for young Thomas. And for us, too. Although there clearly were gay men in Edwardian England, they've been in scant supply on television. There was, of course, Sebastian and Charles in Brideshead Revisited, whose "naughtiness [was] high on the catalogue of grave sins," as Evelyn Waugh wrote, but they merely hinted at what happened when the lights were off. Thomas promises to go somewhat further. It's what makes Downton Abbey feel, well, modern.
No one, of course, is more excited by this turn of events than Rob James-Collier, the actor who secured the role of Thomas with the understanding that it was a one-season deal. "My agent said, 'Listen, you've got the part that everyone in town wants—he's a villain, he's a great role, the only bad thing is that he dies at the end of the first series,' " recalls James-Collier. But Thomas clicked with the audience, and his on-screen chemistry with his maid counterpart, O'Brien (a wonderfully surly Siobhan Finneran), was irresistible. "I gave it 110 percent, and after the first couple of episodes, Liz, the producer, came to me and said, 'We want you to stay on. Will you?' And I was, like, 'Fuck, yeah.' "