The Set-Up
1.16.2014
By Out Contributor
Photography by Rob Howard
Michael, Actor: We first met at a karaoke bar in Burbank. I noticed him and thought he was interesting and cute, but Ryan says he doesn't remember meeting me. Our mutual friend tried to set us up, but I cancelled because a good friend of mine died. He'd had some unlucky dating experiences, so my excuse—my friend died—was the straw that broke the camel's back. The ball was in my court, I guess, and I never rescheduled. Part of that was me being a flake. Part of it was, I was on TV. I was never a "man-whore," but I enjoyed dating; I was enjoying the attention of being on Ugly Betty. A year later, a friend mentioned Ryan, and I told her to set something up. She said Ryan wasn't interested. That's when I felt bad.
The show moved to New York, and Ryan did, too. We supposedly kept crossing paths, but I didn't realize it because by this time I didn't remember what he looked like. It was sort of cruel. One night we were both supposed to meet a mutual friend, and she never showed up, so Ryan and I ended up getting a drink together. Of course, once he finally met me, I was completely irresistible!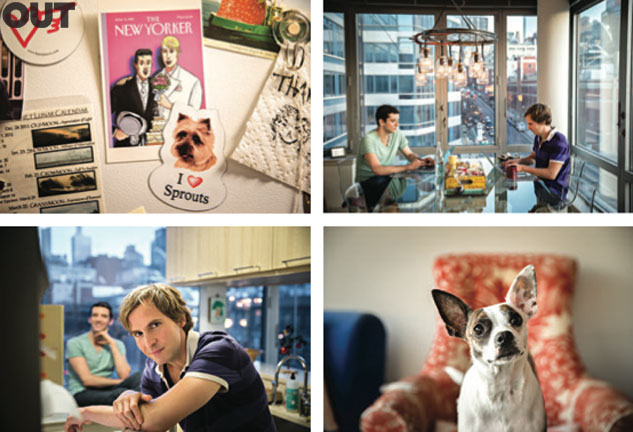 At this point, everything in the apartment makes me think of Ryan. He moved in around the same time that the show was ending, and our apartment is decorated with stuff from Ugly Betty, from Partners, from Angels in America. He has this chandelier from a show he just did. We acquire and steal. It's cool! It's "showbiz eclectic."
We're the same age, 33, and could be considered the same type. I dated people who weren't actors before, and it can be complicated for people who aren't in show business; it can be really boring. He gets it, but sometimes we get sick of it. Then we have to tell ourselves: "OK, let's not talk about this anymore. You have an audition tomorrow; I have an audition. Now let's watch a bad action movie."
Auditioning is such an awful thing; it's so painful and tricky, and you're so vulnerable. Occasionally, when I'm desperately trying to remember the lines, he just gives me that look and says, "Do you want me to tell you if you're not perfect?" I just want to strangle him! But, of course, I do want him to tell me. I just don't want to be not perfect.