Prince Charming Meets His Match
1.16.2014
By Out Contributor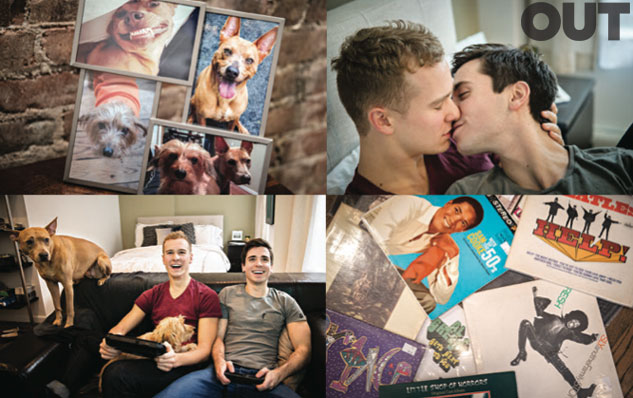 Matt, Actor & Musician: I nearly dropped my drink when Ryan started walking toward me. It sounds ridiculous, but it was one of those situations where it was love at first sight, or, at least, first meet. From the moment he came over, I had this "Oh, this is it" spark of knowing he was someone I had to get to know and have a relationship with. I went home and sent my mother an email saying, "I've definitely met someone really, really special."
I told Ryan I loved him two months in—I was trying to wait three months, but it slipped out one morning. We got coffee together, and I couldn't believe I had to go home and not see him for the rest of the day. Luckily it went very well; he said it back, turned bright red, and was as giddy as could be.
My father is rather conservative, and Ryan is the first guy I've introduced to him. It's always been a sensitive issue, but everyone has his processes. It's really only been a couple of years that we've had an open discussion between us, but he's been overwhelmingly welcoming and loving toward Ryan, and it was really special to have him at my home for Thanksgiving.
Oddly enough, I have very traditional values myself. When I finally had the conversation with my father, one of the things I said was, "Out of all of your children, I probably want the most traditional things—I want to get married and I want a family, and I want a typical nuclear household." I've always wanted very traditional things, and I think Ryan has as well. I have two sisters, and I think we all dreamt about meeting our Prince Charming when we were growing up.