The Men Who Want AIDS—and How It Improved Their Lives
8.8.2013
By Maral Noshad Sharifi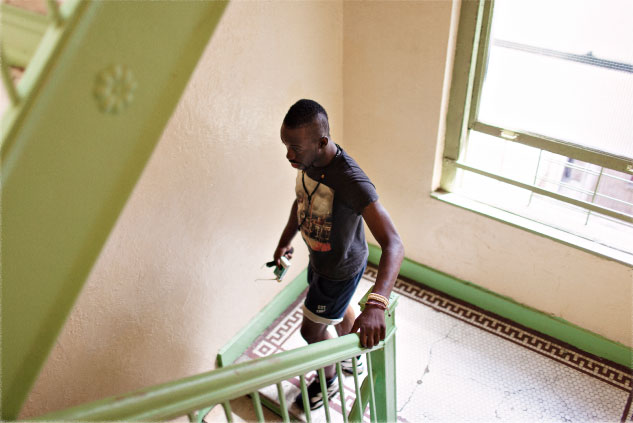 James Bolas, of the Empire State Coalition, acknowledges that Mayor Michael Bloomberg has done more for homeless youth in New York City than former mayor Rudy Giuliani did, but says it's not good enough. "Homeless adolescents are then going to become homeless adults and become a burden on the medical system, the mental health system, the detention system, and the correctional system," he says. "They don't understand that if you can catch and serve effectively from the beginning, you prevent it from taxing society on the end."
The equation is simple, Bolas says: Homeless LGBT youth need the things that anyone needs to live. "To have transportation, to not worry about where their next meal is going to come from," he says. "To have the skills to learn a trade, to earn money. To be able to socialize with people safely and not have to be looking over their shoulders." But the most important thing, according to Bolas, is "to have a place where they can sleep and where their door locks."
Fortner can vouch for that. He still has bad days — "Sometimes I don't even get out of bed," he says — but for the first time in a long time he is looking ahead to his future.
Like his idol, Whitney Houston, he sings gospel music in a local church choir and hopes to develop a music career. He is working on getting some headshots, and says he'll dye his hair cinnamon brown to cover some of the marks left by a violent lover who took a crowbar to his head, putting him in a coma for five days. That was back in Albany, shortly before he was diagnosed with HIV and a world away from his life in the Bronx today.
"I kind of created a new family here," he says. "I have a gay father and a gay mother. I met them through a friend of mine and they just took a liking to me. I said, 'You know what? You're going to be my gay mother and you're going to be my gay father.' They've been there for me for years now."
Back at his apartment, he pauses. "I never thought I'd be able to make it here as long as I have," he says. "It's a good feeling." He turns and makes his way slowly up the steps of his building, his home.
Additional reporting by Aaron Hicklin