Primal Instinct: Olivier Rousteing
9.6.2013
By Julien Sauvalle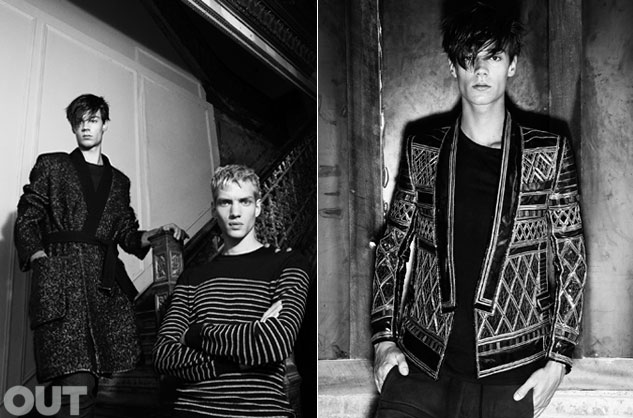 Above Photography by Jason Kim. From left: T-shirt, coat, and pants by Balmain; sweater and jeans by Balmain; T-shirt, jacket, and pants by Balmain.
It turns out that Rousteing could. His creations blur the boundaries between haute couture and ready-to-wear, with an architectural approach to tailoring and a flair for Baroque embellishment that few of his peers can rival. "This shit is art, like you don't even wanna touch it!!!" Rihanna posted on Instagram. Prince wore Balmain in his latest video. Kanye West is a fan (natch).
Still, Rousteing has not forgotten one of the chief lessons from his mentors. "When I started working for Christophe, it was the sexual aspect of his work that I really found interesting," he says. "I've kept this sexual force because it's important for a man or a woman to arouse. That's something I learned at Cavalli." His vision for the Balmain man is a blend of the classic elegance embodied by Yves Saint Laurent and the late French singer Serge Gainsbourg (the inspiration for Rousteing's spring 2014 collection), and the sexual ambiguity of George Michael and Michael Jackson. His current style icons are Pharrell Williams and Frank Ocean.
And suddenly Rousteing is playing Ocean's "Eyes Like Sky," reminiscing about an ex-lover who used the song as an alarm on his phone. "I woke up with this song in the morning after spending the night with him, and we decided that it would be our song," he says. "I've only seen him twice, but I keep him in a corner of my mind."
Rousteing admits he's received "plenty" of offers from attractive men since his rise to fame, but says he's happy being single until he meets the man who wants more than "to date the Balmain guy." The end of a five-year relationship with his Italian boyfriend left him heartbroken but prompted him to come out to his family. "I never took my parents aside and said, 'Guess what, Mom and Dad? I'm gay,' just like they never took me aside and said, 'Guess what, Olivier? You're adopted,' " he explains. "I never talked about love with them, but they understood me. They accepted and supported me. They're very protective of me."