Murphy's Honor
4.11.2013
By Natasha Vargas-Cooper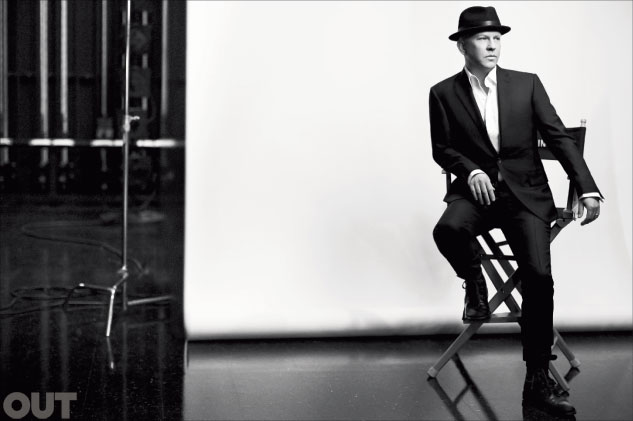 Murphy grew up in small-town Indiana, the son of a former beauty queen and a semi-pro hockey player.At 5 o'clock every morning, Murphy's Irish-Catholic father shook him awake to attend morning mass before dropping him off at parochial school, where Murphy would hang out after hours with the clergy members. "For me, all the nuns and priests were incredibly glamorous figures," Murphy says. The Catholic dramaturgy, the ceremony, the iconography of saints and sinners, the authorial robes and habits of the clergy all enthralled him. The Church, along with his Dark Shadows–loving grandma, Myrtle, provided Murphy with the heightened reality and grand sense of theater he craved as a pre-pubescent boy.
"Myrtle was the best. Everything I have in my life, in terms of my imagination and my ambition and my drama -- the love of all that -- comes from her 100 precent," Murphy says. "She put on a lot of makeup and jewelry and loved the color purple, so she wore it every day." On afternoons, Myrtle would sit her young grandson in front of the TV to watch the paranormal soap opera Dark Shadows "just to toughen me up," Murphy says. "I went as Barnabas Collins, like, three Halloweens in a row, and my dad was thrilled because it was the first time I wanted to be a boy; I usually wanted to be a witch or something like that."
Murphy's set of peculiar interests alienated his more traditional-minded father. "My dad was this big jock and here I was: this weird little gay boy who wanted things like a vacuum cleaner for his birthday." When Murphy would shut down out of frustration with his father's dismissiveness, Myrtle would pull her grandson aside and say things like, "It's great that you want a vacuum. It's OK to be weird." Myrtle indulged her grandson in all his eccentric interests: They went to mortuaries to study flower arrangements, to the cinema to see old Vincent Price movies, and to coin-operated laundromats all over town so Murphy could pick up empty detergent cartons to play make-believe laundromat at home.
Murphy credits Myrtle's love of the macabre and esoteric as the inspiration for American Horror Story. "She turned me on to all the tropes of horror I came to love. In a way, American Horror Story is a tribute to her," Murphy muses, before adding, somewhat typically, "She would hate Glee. She hated musicals."
It's Murphy's mother's love of musicals that her son inherited, and which illuminates his work -- and not only Glee. In the most recent season of American Horror Story, Jessica Lange's character, a defrocked nun interned in her own insane asylum, undergoes an excessive round of electroshock therapy that causes an extended musical hallucination: Lange and the other pajama-clad lunatics swish around the rec room in a glorious rendition of Shirley Ellis's "The Name Game." One might consider the ebullient explosion of song and dance inside the walls of the sadistic institution Briarcliff the epitome of camp.