Murphy's Honor
4.11.2013
By Natasha Vargas-Cooper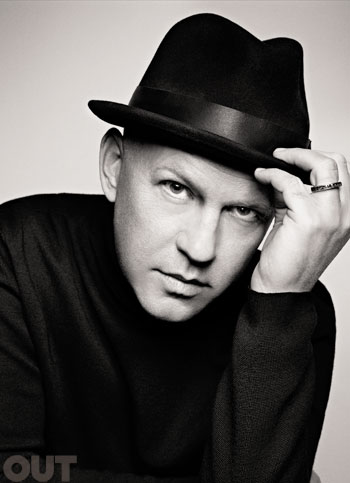 Photography by Kai Z Feng
Styling by Grant Woolhead
Bundled up in an army general's coat, sitting inside his white-on-wood "industrial farm chic" office, Ryan Murphy recounts an exchange that gave the often polarizing show creator a moment of great validation. "I was at a fundraising event at Rob Reiner's house and I was talking to the lawyers who are fighting to get Proposition 8 overturned," Murphy says. "And I asked them why they thought public opinion on gay marriage has changed so much in the last four years."
According to Murphy, the legal duo answered without a moment's hesitation: "Television."
Indeed, it's hard to imagine any other arena that has done more to normalize the gay experience than TV. If the creators of Will and Grace introduced middle America to their cheerful, often slapstick, gay neighbor, then Murphy's Glee and The New Normal have brought that neighbor into the classroom, given him a seat at the dinner table, and beckoned him into our bedroom. In its own subversive way, so has American Horror Story -- with its tongue-in-cheek treatment of gore -- while simultaneously reintroducing us to the American treasure that is Jessica Lange, a bold, bawdy diva if there ever was one.
"I don't go into a project thinking I'm a groundbreaker or a pioneer," says Murphy. "But all my work has a gay voice and gay characters and always will. I do feel with Glee, since it skews so young, the gay characters do transmit a certain message: You are not alone. You don't have to harm or hate yourself." Murphy looks away, pausing, then comes back. "I wish I'd had this show growing up. I think if I had, I would be a lot less fearful and a lot braver."
While gay plotlines have seeped into the fabric of major network shows -- think a very special episode of Roseanne -- the big tipping point in television came with shows like Modern Family and Glee. Both shows went into development at Fox Studios in 2008. When they emerged, ready for prime time with fully formed, dynamic gay characters meant to last the duration of series, Dana Walden, head of programming for Fox Studios, didn't think much of it. Walden is credited as the network mastermind behind getting shows like Glee on air.
"I grew up in Los Angeles, and to me, having gay characters depicted in a non-sensational, non–soap box way is a no-brainer," Walden says. "Part of what makes Ryan's shows so wildly popular isn't that he always pushes the envelope; it's that he creates characters with deep, lasting relationships and he gets the audience to invest in them." Walden recalls the moment when she realized that Glee had become a sensation. "Everyone I talked to mentioned Kurt," she says, referencing the gay, somewhat fey, bullied-but-nervy high schooler with a sensational voice on Glee (played by Chris Colfer). "We didn't go in thinking that Kurt would be a big breakout, but in the middle of season 1, we saw that he was the character everyone was talking about."
Murphy's shows depict the entire range of gay sexuality, from well-to-do suburban dads on The New Normal and quivering choirboys on Glee to persecuted mid-century lesbians on American Horror Story, with all the kissing cheerleaders, mean queens, unrepentant fetishists, closeted jocks, and bisexual serial killers in between.
"I remember being young and hearing my parents having a very derogatory conversation about Paul Lynde while they were watching him on Hollywood Squares," Murphy recalls. "They thought every gay person was like him, and I thought, Well, I do like scarves, it's true, but I'm not Paul Lynde," he says dryly. "That memory stuck with me, so whenever I got any kind of 'power' in television, I tried to showcase different kinds of gay people and always made sure gay people were represented in my projects."
Not that this showcasing came easily to Murphy. "When I first started working in the entertainment industry, it was out of the question to have an authentically gay character on television. Forget it! Forget it." On his first TV show, Popular, a WB teen dramedy set in the Hobbesian world of public high school, Murphy would get notes from the network criticizing his straight characters as "too gay." Other shows he pitched around town with gay characters, or even straight characters "with a gay sensibility," as Murphy describes them, were turned down for being too polarizing and unfamiliar to audiences. "Now it's like, if you don't have a gay character, something is wrong with your show."