Portia de Rossi: THAT GIRL!
4.11.2013
By Shana Naomi Krochmal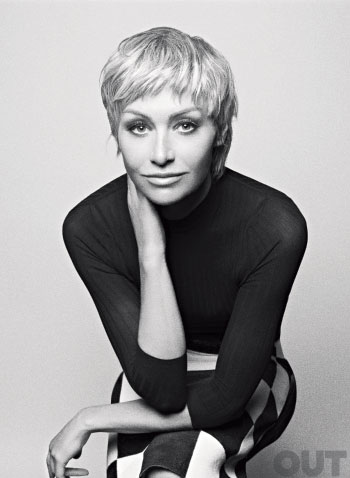 But the best recurring gag hints -- with the power of 1,000 anvils -- that Tobias is secretly living the life of an enthusiastically queer refugee from the 1990s. That it's a secret especially to Tobias is maybe the show's most artful dodge, and yet it somehow never strays into a homophobic portrayal. "I remember David Cross asking Mitch, 'Am I gay? Or is this just like this running joke?' " de Rossi says. "I can't imagine that he would ever think of himself as anything but this guy who is in an unfortunate marriage to a woman that doesn't really love him. I don't think that Tobias would ever think of himself as gay, and that's what makes it funny. It is a huge credit to the writing and to David [that it's not offensive]."
Since Arrested Development went off the air almost seven years ago, de Rossi, also an Ally McBeal alum, has done a stint on Ryan Murphy's Nip/Tuck (her first role in which she played gay), co-starred on the ABC sitcom Better Off Ted, and written a book about her struggle with an eating disorder (Unbearable Lightness).
"I've been very specific with my career," she says. "I really love acting, but it's important to me to be part of really interesting projects. Whatever I respond to, I really throw myself at. I like working with really smart people, and I like being on shows that are either challenging or say something about the culture that we all should be talking about or thinking about."
She has also plunged into producing, including a pilot she and DeGeneres worked on together about rival sisters. "I hadn't been on the ground floor of a project and put it together," she says. "I definitely am going to be developing more shows -- not only for myself -- in the future. I really liked being a part of the creative process from the beginning instead of just stepping into a role at the very end."
Perhaps because she's now had a taste of what more daring TV development can looklike with Netflix, de Rossi is particularly blunt about the much-heralded arrival (again) of funny women in TV. "Sometimes female voices are a little louder and sometimes they're not," she says. "But I think the general trend of network television is just money and how to make money. Until things actually change, the conversation sounds the same."