The Making of Macklemore
5.8.2013
By Stacy Lambe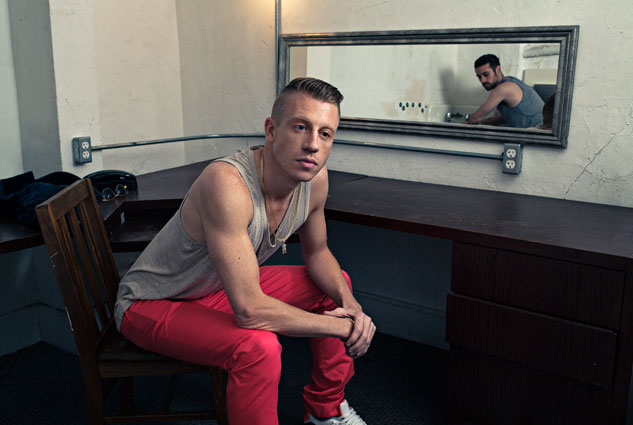 Both he and Lewis grew up surrounded by gay adults. Lewis's uncle is gay and has been living with HIV for 30 years. "Growing up with a gay uncle and having him be a huge part of our family -- I don't think my parents' outlook would be the same if it weren't for him," Lewis says. "He's had a strong influence on us throughout the years." Macklemore was raised in Capitol Hill, a liberal, gay-friendly district of Seattle. The men closest to him -- his uncle Johnny and his godfather -- are gay. "Where I grew up, there were huge gay pride parades less than a mile away from me," Macklemore says. "My dad's best friend was gay. My barber was gay. My uncles owned this restaurant that was a huge magnet for the gay community. My whole upbringing was around gay people." Macklemore grew up Catholic, but was questioning his sexuality by the third grade. His mother, a social worker, reassured him that he was straight, but not without encouraging him to take up ballet lessons as a display of solidarity for a classmate who was being bullied. That period of confusion, and his sympathy for his ostracized peer, has stayed with him.
On this night in March, when he performs "Same Love" halfway through the show, it doesn't seem like Macklemore standing there, but Ben Haggerty himself. Gone is the manic energy seen on TV; no high kicks, no pique turns. In fact, there's little fanfare at all -- just him on a largely empty stage, opening up to his fans.
"This song is about equality," Macklemore says. Though the track only peaked at 89 on the Billboard Hot 100, the crowd responds by cheering more loudly than they have all night. His fans obviously love the song, embrace its call for equality, and chant along to every word of guest vocalist Mary Lambert's chorus.
"Each night is different -- you never know," Macklemore says. "To see 6,500 people put their hands up in support of equality is a beautiful thing. It's honestly been the highlight of touring." In the past, he and Lewis have expressed concern that not every stop on their stretch is going to be fully behind the song's message. But that trepidation seems to be waning as the duo's popularity grows.
"To perform that song in Texas and Idaho, in states that are classically conservative, and see a new generation of people sing as loudly as people were tonight, you're reminded of the power that a musician has to proactively use their craft to change culture," says Lewis. Adds Macklemore, "Of course, we play it regardless of what we think the response is going to be. There's been such ground made in terms of acceptance in the hip-hop community. What Barack Obama did, and what Frank Ocean did, and what, hopefully, 'Same Love' did is start a conversation."
But a major part of that conversation includes the question of why a couple of straight white guys are suddenly the face of gay-friendly hip-hop. "If I was gay, I would think hip-hop hates me" -- that's what Macklemore himself raps in "Same Love." So what do he or Lewis know about being gay, or black, or both in the world of hip-hop?
"Any time you are speaking about or for a community that is inherently not yours, a group that you are not a part of, you have to be careful," Macklemore says. "So 'Same Love' had to be a very personal song for that reason. I think that's how it came out."
He continues, "It's like writing a thesis paper. Before you turn it in and you're about to get graded, you want to make sure you have friends proofread it. You want to get people's reactions. You want to see what the pulse is on the song. We definitely covered our bases in terms of playing it for a wide variety of people."