Ben Rimalower: Patti Issues
7.25.2013
By Jerry Portwood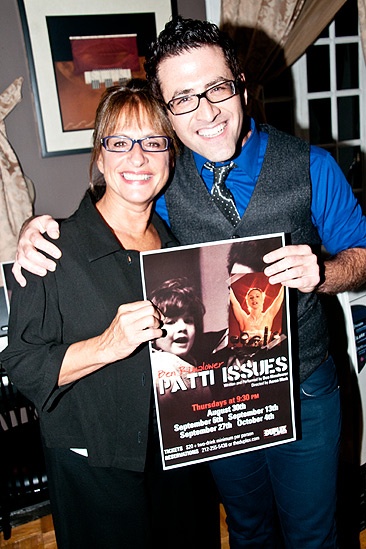 I wanted to say, that one of the most fulfilling portion of your one-man show is that, at one point I thought this is going to be about a young man's yearning fro Patti and using her as a metaphor in an abstract way, but when you actually do get to meet and interact and befriend her in some capacity, it changed everything. And I know she's come to see the show, so what was that like?
Oh yeah, she came to the second performance.
You've patched things up enough that she's cool with you doing a show about your experiences with her?
Oh sure, Patti is like, she's all Patti. I don't think she was ever mad at me. She was like, "Stop doing that show!" So we stopped. And then when I asked if she wanted to do this album, she said, "Yeah!" It's just in the moment. So we've been great for years.
I think she was probably a little bit nervous when I said I was doing this show and then to come see it. But Patti's best friends are Scott Wittman and Marc Shaiman, and they are good friends of mine also. They came to the first performance, and I knew they would tell her if she shouldn't come. And I knew they would tell me if I didn't want her to come and see this. But they said, "No, no, no, she's gonna love it." And she did.
I was very nervous, but it was obvious right from the beginning because she has that great cackle. So that set the whole audience and me at ease because you heard her laughing right from the beginning. And it's clear that she buys into herself as this sort of over-the-top, larger-than-life diva. But not just any diva. She's this sort of Broadway dame. I think it is an endearing portrayal that I paint, and I think she really enjoyed that. So that was nice.
Of course, I get the moment of when she threatens to sue me. And you could almost cut the tension with a knife. Was she going to think I was painting her like a bitch. But the thing is, Patti's so confident. She's really kinda self-righteous and so she doesn't think she comes across as a bitch. So Patti's like, "Well I should sue them!" She laughed at that line too. She's just indomitable.
That's great. Well, you mentioned the ending and it is jarring; it is abrupt. And it leaves you wanting to know more. So is it the end? Or is it just that way for theatrical purposes?
Well, I'm not dead…[Laughs] I mean, it's the end of my relationship with my father. Although I don't know if this show has done much for chances of our reconciliation [Laughs]. But that's OK. I am working on another solo piece that is, in a way, an extension of this. It's not about my father or Patti LuPone but both of those things are such a big part of who I am so they'll both be in the next show also.
You just performed in P-town and you have some performances coming up in Fire Island and elsewhere. It looks like you're trying to do this on weekends and holidays and when you can get away from work. How is that working out?
I know, I don't have a lot of vacation time.
How are the audiences different and their reactions?
The gay beach towns are particularly a trip. And the audiences have been fabulous. In Chicago and LA and San Francisco, Berkeley, and San Diego. In a way they're all the same, but I find in a way the audiences are almost better out of town because, you know, in New York, they're like, "You know, I've hung out with Patti LuPone too. Shut the fuck up, Ben Rimalower." Nobody really wants to hear, everyone has their stories. In California and elsewhere they almost want to prove that they're in the know. So they are very forthcoming.
The gay beach towns are hard. I did three shows in Provincetown July 4th week. And I've done two shows in Fire Island already this summer and have more coming up. They're tricky because people are there to party. And I got those gigs because I love those places and I wanted to be paid to be there. And if I were there, I'd want to see something like this. I've had smaller houses there but they've been good. I'm on Commercial Street in P-Town asking these shirtless Adonises walking out of a tea dance to come see my show. Sometimes I can convince one to come, and then I'm like, "I hope he likes it." You know it's hard to sell my wares to those guys: I can't take my shirt off, I don't look like them, and I'm not a drag queen, so I kinda feel like the fat prostitute.
You know, it's called Patti Issues and Patti's on the poster, but there's a long stretch with me just talking about my parents getting divorced, my father coming out, my father trying to kill himself. And I know that's a tough sell for a gay beach town crowd. I'm not saying my next show is going to be silly and stupid, but I hope that maybe going forward I'll have material that's more versatile for that crowd. I know my next show isn't going to have a 20-minute monologue about my father coming out of the closet, I'll tell you that much.
Patti Issues is playing Thursdays at the Duplex in NYC through Aug. 15. Upcoming performances include Provincetown, Aug. 4 (a benefit performance for the Family Equality Council); Fire Island, Aug. 9; Eugene O'Neill Theater Center in Watertown, Conn., on Aug. 3; at The Flying Duck in Glasgow, Scotland, on Aug. 22; and at Club Café in Boston on September 6 and 7. For more information and tickets visit the website PattiIssues.com
Watch the Funny or Die video below: