10 Lessons Learned From 60s-Era Gay Skin Mags
7.3.2013
By Andrew Belonsky
I recently acquired a number 60s-era "physique," "nudist," and "connoisseur" magazines at the Antiques Garage Flea Market in Chelsea. In other words, I have a stack of mid-century, pre-Stonewall skin mags. Here's a short review of some things I learned, remembered, and otherwise discovered as a result.
1. SAILORS MUST BE VERSATILE: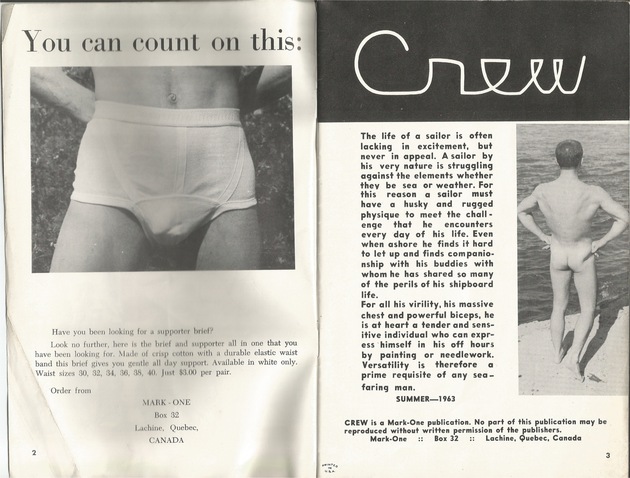 One of the magazines that cast men as sailors, Crew, published in the summer of 1963, came complete with a not-very-subtly coded manifesto on the hard and soft qualities found in ideal seamen. "…A sailor must have a husky and rugged physique… For all his virility, his massive chest and powerful biceps, he is at heart a tender and sensitive individual who can express himself in his off hours by painting or needlework. Versatility is therefore a prime requisite for any seafaring man."
The subsequent examples were indeed splendid. Here are two: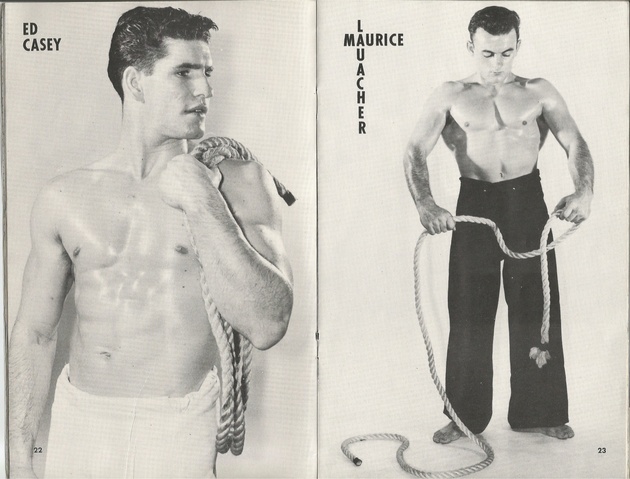 Sadly, this was in the age of "decency laws" and penises were verboten. A bit of ass came through at times, but rarely. It wouldn't be long, though, before men could see other men's wangs. But more on those bits in a bit.
2. NO MEN'S EARRINGS AT TIFFANY: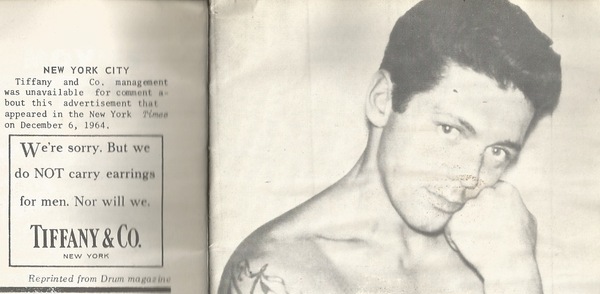 Reading through a 1965 edition of Tiger, a magazine that consisted of text reprinted from seminal gay rag Drum and pictures from the Minnesota-based studio, DSI Inc, I came across a Tiffany & Co ad reading "We're sorry. But we do NOT carry earrings for men. Nor will we." As seen above, the magazine explains the advert appeared in the New York Times on December 6, 1964.
I recall once hearing something about Tiffany creating the policy to thwart homosexuality, but couldn't quite place the memory. I did an online search on the matter and came up with a similarly hazy comment left on a 2009 NYT article about Tiffany selling men's earrings. Wrote the reader, "I seem to remember a Tiffany's sign in the store on Fifth Avenue, in the 70s. A small card on which was printed: "Tiffany & Co does not sell mens' earrings, and they never will.'" Clearly Tiffany has changed their policy, but does anyone else remember this being a thing?
3. "HILL-BILLY TOWN:" In the a mid-1966 edition of Drum, a reader from Vienna, West Virginia, wrote, "Your little magazine is one of the best I have ever obtained. Where else in this hill-billy town could I get the information and articles like Drum has?" As your own experience no doubt proves, reader, gay media, including skin mags, have been and remain essential vehicles for consciousness-raising and mass organization. They provide the information and in many cases the impetus for serious social change.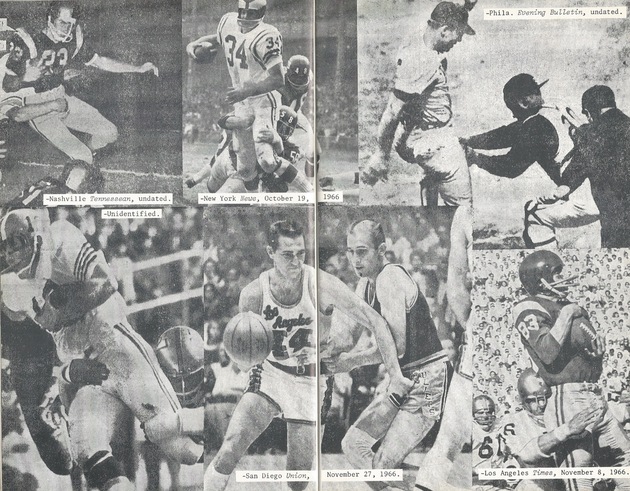 ("Gay Moments in Sports" from Drum #18-19, 1966.)
4. HATERS HAVE AND ARE GONNA HATE: That same issue of Drum featured this note: "The worst thing about Drum are those articles by [editor] Clark Polak who must think he's some sort of intellectual." And that was from a fan! Meanwhile, one anti-gay housewife wrote into a 1967 issue, "Your magazine is disgusting! Shame on you for printing such trash and allowing those photographs to be published!" Trolling is apparently an American tradition.