A Gay Artist's 30-Year Greek Love Affair
6.3.2013
By Out.com Editors
Sometimes the best judges of a city's character are the outsiders, the ones who are drawn there and get to know the place with healthy distance. They can reveal a place's beauty without overlooking its flaws, just as artist Christian Brechneff does in The Greek House: The Story of a Painter's Love Affair with the Island of Sifnos, out next week from Farrar, Straus and Giroux.
Born in the Belgian Congo and brought up in Switzerland, Brechneff first visited Sifnos in 1972, after hearing about the island from an acquaintance at St. Olaf College in Northfield, Minnesota. Twenty-one years old and fresh off of military duty in Switzerland, Brechneff, still immature emotionally, intellectually, and sexually, found himself instantly drawn to this foreign place, sight unseen, and the next three decades the painter's life would unfold in large part against a Sifnos backdrop.
When not showing his pastels, water color, or oil paintings in places like Germany, Sri Lanka, and Spain, Brechneff returned to Sifnos and in this book, co-written with Tim Lovejoy, Brechneff tells of how his Sifnos came to be, and why he decided to undo it all. In these excerpts, readers are introduced to a young Brechneff, given a glimpse into his time in the army and get his first impressions of Sifnos and a few of the people he'd meet there.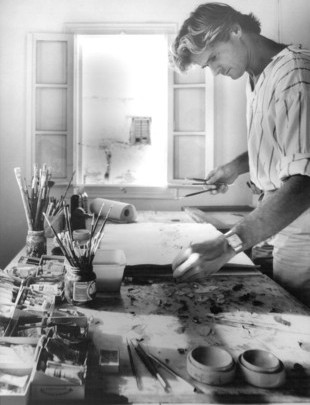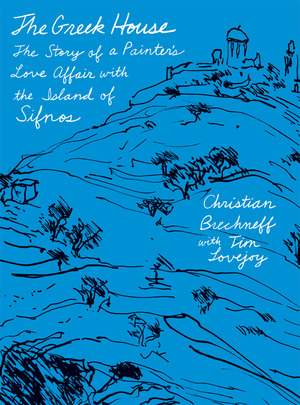 May 27, 1972
Dearest Axel and Dita,

I am in paradise here and I have never been happier. I found my own house. Imagine. It is just up from the beach on a cliff overlooking all of Platy Ghialos and the Cycladic island world.
Views into the infinite, the movement of the sea, the endless horizon. All of this with the help of a local shepherd who is impressed with my goat-milking talents from my days in the Ticino. And it is free! A ruin that no one has used for years apparently. The sister-in-law of the local taverna owner has given me a slightly worn mattress (perfectly clean, I hope) and I am installed. One large room with a fireplace for cooking, which I fear I'll never use, a table for my painting, some shelves and an open door to the bedroom. It remains cool and wind protected and all seems ideal.
The world of color here is incredible. I have already started drawing and painting and work all the time. Lots of light studies in the morning and evening. There is a joyous atmosphere here, an interplay of work and simple pleasures, all nourished by the Aegean sun. I work and then lie in the sun on my rock doing nothing, thinking of nothing, keeping my mind empty. Being still and silent—me silent! It is very healing. My new work is fresh and clean, I think. I hope. I am trying to paint, to find the light.
Love, C
...
Those first days were magical. Sifnos seemed to be everything I had imagined it might be. There was endless sea and sky, and this strange, charged atmosphere. There was sun such as I had never known, an actual force, wind that came from every direction at once and not only cleared but emptied your head, clean, dry air without any of the gloom or murk or fog of Europe, and moonlight so bright and sharp it made you want to howl with all the island dogs. I loved the mountains, the Swiss Alps above all, but this was something else again.
Being there, after Switzerland, was like day and night. I had just finished my first stint in the army, an annual misery for all Swiss men. Some men loved it, of course: for them it was an annual visit to a summer camp for grown-ups, a world of men away from home, away from wives or mothers, a world of men giving orders, men following orders, a bit of physical fitness, a bit of playing with guns, good macho fun. I had loved summer camp and the Boy Scouts, but I hated this. For me, it was mind-bendingly boring, an exercise in having other people kill your time for you by teaching you things you didn't want to know or running you ragged through the mountains to keep you in shape in case the Chinese invaded, an overriding Swiss fantasy at the time.
For me it was also an uncomfortable exercise to be surrounded by so many men, men whom once in a while I was attracted to, of course, but with whom for the most part I had no connection whatsoever. And who had no connection with me and, I am sure, found me even more alien than I found them. Half Russian, thus not truly Swiss, very tall and slim and blond, and a painter, for God's sake. I was not part of their world. At one point in those first years— you had to go every year— I was made acutely aware of my alienness. I found myself attached to a medical corps where the officer in charge of the physical examinations of new recruits— a sneering, superior sort— ordered me to assist him. He gave me the unenviable job, no matter how gay I might have thought I was, of sitting in front of the naked recruits and sticking two fingers up in their scrotum while they coughed— testing for hernias. There were hundreds of recruits; the parade went on and on, students, farm boys, bankers, all of them smirking down at me. This little cruelty seemed to amuse the officer, and the other officers too. Obviously they all sensed something, maybe that I was gay, or that there was simply something about me, too arty, too different from them, and they pounced.
How did they know, I wondered, or how did they guess? At that point I had only the haziest notion that my attraction to men really meant anything, that I might not grow out of it but might actually grow into it.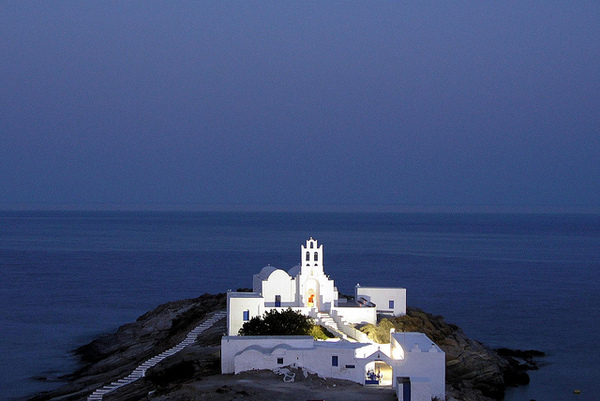 (Church on Sifnos, via Visit Greece's Flickr.)
As the summer days passed, the magic of Sifnos settled over me as lightly and gently as some fine golden powder, as light as the fairy dust blown by Tinker Bell into the faces of the Darling children to get them up and flying on their way to Neverland. My days there were peaceful and I hoped they would never end. Each morning I woke to the smell of the fire in my neighbor Aphrodite's kitchen— a fire of brush and homemade charcoal— to the crowing of cocks and the clatter of hens, and to the slightly melancholic tones of bells as the goats were driven along the beach to their fields.
The dry heat never seemed oppressive; in truth, the warmth of the sun and the fire one sensed behind it always excited me. The landscape, with olive and fruit trees growing in profusion, with the sea always nearby, seemed the perfect place to live and work. The days were long, and one could accomplish an enormous amount. Pictures poured out of me, piling up on the table or pinned to the flaking walls of my ruin.
….
Fortunately, I was getting enough work done that I usually felt I had plenty of time to hike all the way up to Apollonia whenever I wanted to, and a hike it was, more than two hours each way. But there was no other way to get there; the road was not finished and would not be for another year or more. Happily, I discovered that I loved to walk on Sifnos. My route led through the same richly fertile farmland we had passed on the way to Platy Ghialos that first day in the taxi, but the walking route was more direct. I took paths that the islanders had used for centuries, up into the hills, across donkey paths and goat trails, skirting terraces and climbing huge stone stairs that led up and over the high back of the island.
The view was vast and changed constantly. From very high up I could see, and came to know, the surrounding islands, Mílos, Kímolos, Páros, Foligandros, and Sikinos, all of them floating in the distance, sometimes faint in the midday haze, other times so close and clear you felt you could reach out and touch them. Everywhere there were flowers and flowering shrubs. I knew the names of only a few of them— anemone, delphinium, wild cyclamen, monkshood, and broom— but there seemed to be thousands of them of all kinds. By early June the rain had stopped, and the fields and flowers began to dry up, but the olive trees retained their silvery gray-green color, and the dark pines and cedars stood sharp against the golds and yellows of the dry fields.
As I walked, I was bombarded by waves of smells and sounds. Sage was the dominant scent, but there were any number of other hot, dusty herbal smells, along with the deafening sounds of crickets and cicadas. If I needed a rest, it seemed there was always a little white church or an empty monastery with a spring-fed well nearby, an old bucket close beside it, and a tree to sit under to cool off in the dry, dry air. I often ran into farmers on their donkeys, almost always in old buttoned-up tweed jackets, their sun-browned, bony wrists and rough hands poking out of the sleeves, and caps or straw hats on their heads against the sun. They would offer me figs or tomatoes or whatever they had in their pockets. Eventually they all got to know me and, I think, thought well of me for walking the island; walking made me somehow closer to them, made me feel I belonged to their world a little.