Camp for Beginners
8.20.2012
By Mark Simpson
Illustration by J. David McKenney
I've always been a big fan of Judy Garland, Joan Crawford, and Doris Day. But it was a secret, shameful love -- until, that is, David Halperin's new book, How to Be Gay (Harvard University Press), finally gave me the strength to come out about it. Talking about gay culture can make people of all persuasions very angry indeed. When Halperin began teaching a course on it at the University of Michigan called "How to Be Gay: Male Homosexuality and Initiation" back in 2000, it caused a national scandal: He was inundated with outraged, abusive emails, politicians tried to axe funding for his university, and his course was denounced on Fox News, as well as in some corners of the gay press. I caught up with him to assess the fallout since then.
SIMPSON: How on earth did your charming—entirely chaste—course on gay initiation manage to upset so many people, straight and gay?
HALPERIN: It was the title. Conservatives in the United States had long suspected that college professors aim to convert straight teenagers to homosexuality; now they had the proof. And gay people in the United States get very upset at the slightest implication that any aspect of homosexuality might not be inborn. Of course, I was neither trying to convert straight students nor suggest that people become gay because they are recruited into the homosexual lifestyle. But in order to understand that, you would have had to read the entire course description, not just the title. It's interesting, though, that gay culture should be more scandalous nowadays than gay sex.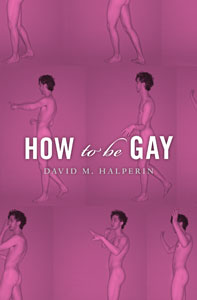 If you're doing it right... Do you expect your book to cause a similar outcry? Do you want it to?
I never like to upset people, and I don't aspire to be polemical, but I have a point of view to defend and I think the book is going to be controversial because it celebrates the fact that gay men are not exactly like everybody else. In an era of gay assimilation, the notion of gay difference arouses a lot of doubt and suspicion.
Is it true to say that the gay culture you are writing about is mostly the "gay sensibility" -- the subcultural appropriation and subversion of mainstream straight culture that characterized pre-Stonewall gay life? Judy! Joan! Oklahoma!
Yes, I'm interested in the persistence of that subcultural appropriation at a time when gay people have now created their own culture. I love that new, post-Stonewall gay culture, but it has trouble competing with the appeal of those traditional icons or their contemporary descendants, like Lady Gaga, and I wanted to find out why. I wanted to know why gay men in particular still thrill to divas and train wrecks when they have original works of gay fiction, movies, and pop culture that feature gay men instead.
Why has the out-and-proud gay identity failed to kill off the self-loathing, closeted gay sensibility?
Because gay identity can't contain the full play of gay desire. I discovered this when I taught a class on contemporary gay male literature a dozen years ago -- I expected gay male students to like such a class. But they got bored with the reading and amused themselves instead by drawing cartoons on the attendance sheet, portraying the members of the class -- including me -- as characters from The Golden Girls or Steel Magnolias. That's when I realized I was doing something wrong and decided to teach "How to Be Gay."
Does the fact that you're in many ways an outsider on gay culture make you the right or the wrong person to write this book?
Both. I spend a lot of time reconstructing laboriously and imprecisely what many gay men already know. I'm sure they could do it better, but they aren't talking, except in one-liners. It takes someone who doesn't get it on the first take to work out the logic. I wish someone else would do the explaining, but it looks like I have to.
How bad at being gay are you? Embarrassing examples, please.
Terrible, truly terrible. I'm not a very camp person; I'm very serious. I spent the first several decades of my life absorbing high culture -- studying Greek tragedy, German music, American politics. I thought the appeal of Judy Garland to gay men was a profound enigma. I hated disco and loved rock music. I was a junkie for meaning.
Tell me about your "mother" -- or rather, the fact that you didn't have one. Do you wish you'd had an older gay male confidante who taught you about gay culture?
Well, from time to time in my youth I would meet a wise old queen -- that is, someone in their early thirties -- who would explain to me why my idiotic notions about gay romance were wrong. But in some respects, my "mother" turns out to have been an Australian boyfriend half my age who made me watch The Women about 20 years after I came out.