A new week, a new start, and this episode of Glee had us smiling more often and not. There were male strippers, there were heartfelt speeches, there were white tuxedos and a whole lotta MJ. Read on, reader, to see what you missed (or relive it, in prose form).
The New Directions are amping up for sectionals, and Finn and Rachel know the group is lacking luster. "We need star power," Finn says. "We need Sam Evans." A Facebook search and a four-hour drive to Kentucky later, and Rachel and Finn stop by the bar where Sam is working. An announcer  introduces a trio of male strippers, including our very own Sam in a hardhat and overalls – overalls he quickly shucks off to expose red short shorts. They're not quite as perfect as the gold lame hotpants he sported in the Rocky Horror episode, but the ladies seem pleased.
After the show, Rachel and Finn plead their case, and Sam explains that his abs are helping support his family. That's all well and good, but let's get our priorities straight: "We need you for sectionals," Finn reminds him. So they head to Sam's house, Sam explains to his parents that he's heading back to McKinley (again, that's four hours away) and he "just wants to feel like a teenager again." Which, a friend noted to me, makes perfect sense when you're 22.
Meanwhile Blaine and Kurt are settling down for a coffee when they're interrupted by our favorite warbling villain, Sebastian. He aggressively hits on Blaine, as per usual, and as soon as Blaine bows out, Kurt and Sebastian go at it, throwing shade that would make Santana proud. At first Sebastian had us, with "One of us has a hard-luck case of the gayface, and it ain't me." But Kurt definitely wins this round, delivering what's sure to be the go-to gay comeback of the season: "You smell like Craigslist."
Sam returns to the Glee club and sings "Red Solo Cup" with his buds in the choir room. This is okay, but we don't see what this alcoholic anthem has to do with... anything.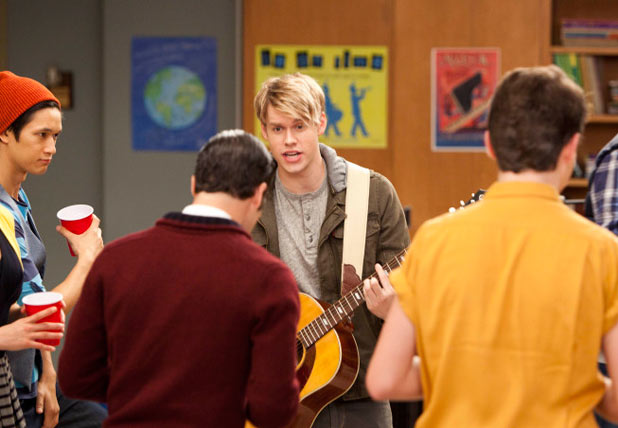 Quinn, who throws herself at anyone with a Y chromosome, hits on Sam in the hallway, explaining "I look like a supermodel now that my thyroid's under control." Sam's not having it though and heads off to find Mercedes, who likewise is not having him.
In the choir room, the largely male glee club tries to find their missing spark. They decide they need more sex appeal, so Sam volunteers some of his stripper knowledge. He executes a satisfactory body roll (we'd give it an excellent, but his shirt was on) and Blaine throws a fit, accuses Sam of selling his body, and storms out..
Blaine ends up in a tank top, all sweaty and ragey and attacking a punching bag. Finn walks in and apologizes to Blaine for not treating him well this year. He explains he "felt threatened" by the Warbler's skills. They reconcile, though we wish they'd done it with a hug. Or you know, some totally Platonic kissing.
Some other things to know before sectionals: Quinn keeps threatening to out Shelby for sleeping with Puck, Rachel tells her not too. Cute Asian Mike's dad is furious that he's continuing to dance. Also remember: Rachel Berry can't participate, since she's a suspended ballot-stuffer.
And it's sectionals! The night starts out with a Unitards performance of "What's New Buenos Aires." We really liked this song, particularly the performance given by Harmony (remember her?). Granted, we gays are suckers for Evita. If you need proof of this, mid-performance the camera cuts to Kurt and Rachel in the audience, mouthing every. single. word. 
Out in the hall, Quinn reveals to Rachel her diabolical plan. Rachel counsels, "You've done some awful things, but this would be rock bottom." And tells Quinn she should at least give Shelby fair warning. Cut to a scene in the music room. Quinn warns Shelby, and Shelby gets sweet and motherly, telling her, "You're exactly where you should be right now," and it's all really heartfelt and well-acted and thank you Idina for everything you do. This monologue is enough to change Quinn's mind.
Next up: the Trouble Tones, who looked typically great in their silver lame bubble dresses. They opened with Gaynor's "I Will Survive" [I was watching in a gay bar, so I couldn't hear most of this over the screams of excitement] which swiftly transitioned to Destiny's Child's "I'm A Survivor." Mercedes and Santana kill it as usual, and Brittany dances like none other, but will they ever top that Adele mash-up? Not yet.
The New Directions finally take the stage, sporting some dashing white tuxes with black peak lapels. And it's a Jackson family fantasia for the next five minutes. We open with Tina and Kurt on "ABC" and plenty of Mike Chang dance moves (which his father, who decideds to attend, nods at appreciatively). Then we move on to Janet's "Control," and finish off with a showstopping "Man In The Mirror," where all the guys in the group – so, most of the group – really show off their dance skills.
Are you sitting down? The New Directions won sectionals. Never saw it coming, right?
This is followed by a series of feel-good moments, in which Quinn thanks Rachel for stopping her nefarious plan, then Quinn talks to the Trouble Tones in the ladies room about rejoining the New Directions. Mercedes deadpans her Dreamgirls reference: "I'm telling you. I'm not going." But ultimately she does go, because Quinn promises everyone will get solos, and nobody likes gender division.
The episode ends with fun.'s "We Are Young," which Rachel Berry starts singing (we really missed the sound of her voice in this episode). And you know what? This episode was fun. It had strippers, Craigslist references, sweaty Blaine and Gloria Gaynor. It'd be greedy to ask for more.