Winter Sun Playlists
1.28.2013
By Out.com Editors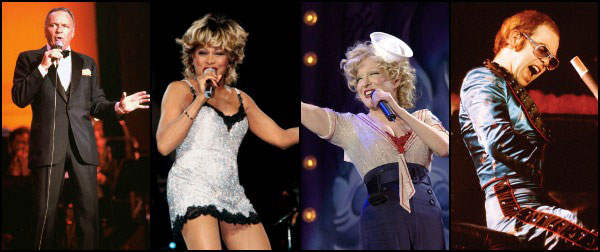 31 Tracks From Sin City Legends
ince its inception, Sin City has put the world's biggest stars center stage. Liberace made a fortune at the MGM, becoming one of the first live acts to set up shop in the arid air. Rat Packers Frank Sinatra, Dean Martin and Sammy Davis Jr sold out shows for years before passing the torch to entertainers of varied sounds and skills, including Barry Manilow and Wayne Newton. And divas like Cher, Bette Midler, and Tina Turner have played into the glittering night. (Tina must know the city like the back of her hand. Before leaving Ike to become an independent woman, the couple spent months hopping between the city's larger venues, often to fellow performers with residencies there, Elvis among them.)
Britney Spears, Cee-Lo, and Boyz II Men will soon join them, offering spectacular shows of their own, and so too will rockers Motley Crue and Guns N' Roses; Garth Brooks had a long-running show, and BB King shared his one-of-a-kind talents with hundreds of thousands of lucky listeners. Cirque de Soleil, meanwhile, will soon unveil a spectacular Michael Jackson tribute, "Immortal." Together, these and other artists have helped Vegas keep its well-earned title of entertainment capital of the world.
There's no one sound in this collection; it's a wide variety of sounds that may not have originated in Vegas, but many of them (we're looking at you, Clint Holmes) have become so closely associated with the city that you'd think they had.
When possible, we've included live versions of tracks, to give you a better sense of what it might be like to hear these performers do their thing in person. But there were some intriguing collaborations that we couldn't resist featuring, such as Vegas institution Tom Jones and Swedish band The Cardigan's cover of The Talking Heads' "Bringing Down The House" and Santana and Tina Turner's "The Game of Love."
All of these starts and more make appearances in our Vegas playlist, "Paradise City: A Las Vegas Experience."
OUTTRAVELER: Favorite Spots to Play in Las Vegas