No More Distractions
1.16.2014
By Out Contributor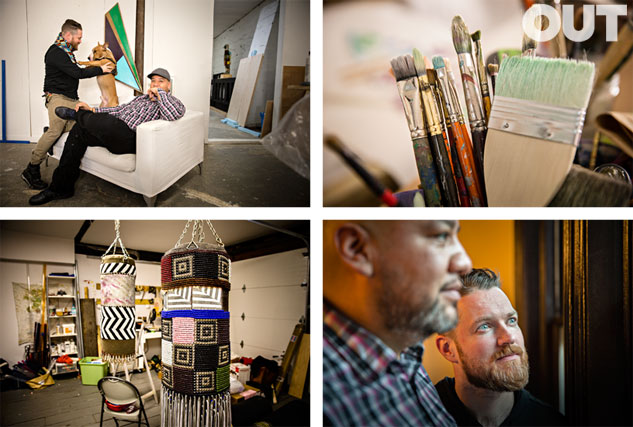 Jeff Gibson's artwork in progress at his studio in Hudson, NY
Rune, artist: I doodle Jeff's face a lot. He has really great eyebrows. They're big and bushy, good, tough eyebrows. We spend a radical amount of time together compared to other people. We enjoy each other's company a lot, but I never thought I'd be with anybody.
I asked him to marry me because I was romantically inclined, but it was practical, too. It's weird to think that we were really early. We were the first gay male couple to marry on the small island off the west coast of Norway where I'm from. But when we moved to America, nothing was recognized, and my immigration lawyer said, "Leave Jeff out of it." It's what we had to do for me to get a visa.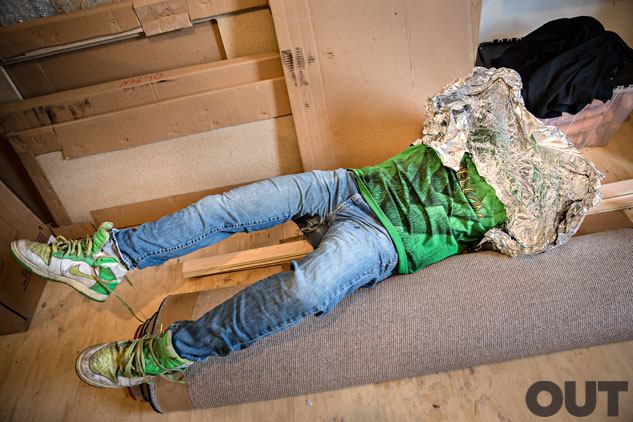 Rune Olsen's sculpture from a recent exhibit
Coming of age in the '90s, I thought, How do I maneuver this? Jeff being Native American—that was a part of his dialogue. I'm Norwegian; I'm foreign. But because I'm white, I look like everybody else and people just think I have an odd accent and am from Minnesota. What do we call ourselves? Are we partners, or husbands? We still haven't figured it out. We have a million pet names for each other, but our friends just call us "the boys."
With two artists living together, there's support and jealousy. I think we influence each other—in the way we talk about art, the way we think about it—but our visual language is pretty radically different. Both of us want the best for each other, but I feel that jealousy is a relatively good emotion. If you don't care, it would be horrible, but jealousy indicates that there are a lot of feelings. And I like that—a lot of feeling.