"Mr. Burns" photo by Joan Marcus
Although every year it seems too many words are wasted lamenting the lack of great roles for women in movies or how so few female directors manage to rise to the top in Hollywood, 2013 was a year where women were clearly the winners when it came to theater. Yes, there were several all-male productions (many of them incredible), but we also had breakout performances by women, female directors shaping jaw-dropping shows, and writers and composers crafting stories with distinct points of view. Don't forget that a lot of lesbian love was also seen on New York City's stages this year, especially when it came to the domesticated variety. While the lesbian couple at the heart of Tanya Barfield's The Call (Playwrights Horizons) didn't strive to have children, Ethan Coen had his lady duo manipulating a man to get what they wanted in Women or Nothing (Atlantic Theater). Out of the hundreds of shows I watch each year, it's always difficult to pare it down to a handful, these are the shows that made me laugh, cry, think, and continue to shape the way I view the world—and have hope for the live theatrical experience.
1. Mr. Burns, A Post-Electric Play
A meta-theatrical masterpiece that proved the power of storytelling is stronger than even the most apocalyptic consequences of human failures, I was left breathless and ecstatic after seeing the Playwrights Horizons production written by the incredible Anne Washburn (with direction by Steve Cosson). While it's true that I may have appreciated moments more than others in the audience because I have seen (and love) the "Cape Feare" episode of The Simpsons from which much of the text is extrapolated, it was the larger idea about the deep human need for sharing (and shaping) stories that excited me and recalled my own fascination with writing, acting, and directing that has persisted since childhood. The fact that it was staged the same year as the opera Anna Nicole, showing how we are capable of aestheticizing any intriguing storyline, only made it more perfect.
2. Fun Home
How do you adapt a beloved memoir about parental death and sexual awakening—told through idiosyncratic comic panels—into a musical? Lisa Kron, who wrote the book and lyrics and Jeanine Tesori,the composer, managed to take Alison Bechdel's beloved graphic novel with the same title and interpret it with humor and grace, causing me to laugh and cry and tell everyone to go and see it. Not only that, it had lots of quirky lesbian love moments that felt awkwardly true—and never pretentious. I'm hoping that the show can continue to capture more audiences (it has been extended through Jan. 12, 2014) so that once it ends its Public Theater run we can see the most unusual and satisfying musicals I've seen in years have a life for many years to come (and not just at women's colleges). 
3. Here Lies Love
An interactive disco musical about despised Philippine dictators? Somehow David Byrne and Fatboy Slim managed to make Imelda Marcos sexy for a new generation—without being a punchline (no shoes were mentioned)—and, although I thought Alex Timbers had been swallowed by the gimmick machine of irony and preciousness, his direction presented some breathtaking moments. The fact that Byrne happened to be at the performance I paid to see, singing and dancing along (as I've seen him do at several music concerts as well), made it one of the most unforgettable productions of the year by far. It's unclear how this will ever be staged again, but let's hope someone figures out a way to make it happen because it should be playing on repeat for a long time.
4. Ann
This one-woman show about the late Ann Richards, the former Governor of Texas, could have easily slipped into nostalgia, reminding Gen-X progressives such as myself who came of age in the '90s what it was like to have politicians who spoke their mind and seemed to always be on the right side of history. Holland Taylor inhabited the woman with such perfect grace, never a too-appealing impersonation, that she was spellbinding to watch so that the women surrounding me (it seemed to be mainly women at the performance I saw early in the extended run) were all weeping by the end. It was an interesting bookend of Texas storytelling this year, that culiminated in the off-color but powerful opera Anna Nicole, about another larger-than life Texan who shaped our 20th-century sensibilities.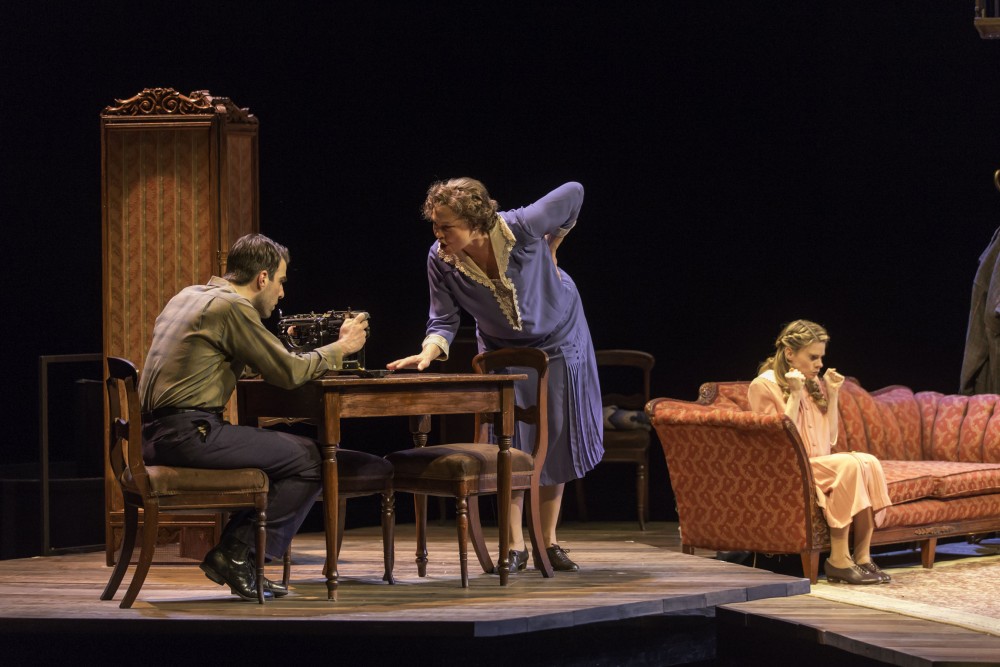 5. The Glass Menagerie
With all the Tennessee Williams that has recently been staged, this appeared to be another classic that didn't need to be re-told, but John Tiffany's original take retained the sentimental soliloquies while also sharing the raw power of Cherry Jones and Zachary Quinto as mother Amanda and conflicted son Tom that will forever shape the way we see these characters.
6. Choir Boy
Tarell Alvin McCraney remains one of the most original voices of his generation and his play about a fictional all-boys black boarding school reminded us of the complicated roles so many continue to play (read the interview). This summer MTC production directed by Trip Cullman showcased a crop of talented young actors (especially Jeremy Pope in the lead as Pharus) and made us eager for his next original work to capture our hearts and minds.
7. Sontag: Reborn
A one-woman show adapted from the journals of Susan Sontag may have sounded like a snooze, but Moe Angelos embodied the prickly genius with wit and wisdom, allowing her intellect to have a human side. Directed by Marianne Weems so that Angelos interacted with a video projection of an older Sontag (with that familiar shock of gray hair), it's not wonder that a few audience members each night anticipated her doppleganger to take a bow at curtain—only proving Angelos's talent for inhabiting a woman who once seemed impossible to like.
8. Waiting for Godot
Although I'd seen Patrick Stewart strut his stuff on the stage before, this was my first foray into live Ian McKellen, and now I know what all the fuss is about (and why we can only hope he's not remembered solely for his blockbuster mojo as Magneto-Gandalf). While the more opaque Pinter this was paired with, No Man's Land, is also a fascinating vehicle for the four actors (that include an astounding Shuler Hensley and Billy Crudup, who is unrecognizable in Godot), it was the McKellen-Stewart pairing that brought new insights into the Beckett classic, with a hilarious (yet subtle) homoerotic reading of Vladimir and Estragon that felt like an epiphany.
9. Twelfth Night
Although I have seen enough Shakespeare to keep me satisfied for several years, this was a year of some great, unusual takes (Alan Cumming doing his virtuosic solo Macbeth, directed by John Tiffany, may have been a head scratcher but go see the goth-vampire Ethan Hawke variety at Lincoln Center and it'll remind you how crazy-good that performance was). After seeing one of the worst Romeos of all times (it's true Orlando), it may have set us up for a back-to-basics approach and Mark Rylance playing Olivia in the wonderful all-male Tim Carroll-directed production. I know it doesn't mean we'll be free of Shakespeare anytime soon, at least it felt like a palate cleanser to prepare us for the hundreds more down the road.
10. Small Engine Repair
The most testosterone-filled production (even more so than the all-male British double bills mentioned above) was also one of the most confounding. I'm sick of Mamet (or Mamet wannabes) by now, but John Pollono constructed a play that felt contemporary and authentic, engaging with the pitfalls of social media without coming off as stale and disconnected or just overwritten dick jokes. He also played Frank, its patriarchal core, with an understated confidence that most men could relate to—no matter if you have children or not. I still feel as if my hands are tied since no one wants the central conflict and plot twists to be revealed and spoiled for future audiences, but let's just say that the biggest dick joke turned out to be the best. (Read the interview)