25 Places To Rest Your Head In San Francisco
3.28.2013
By Out.com Editors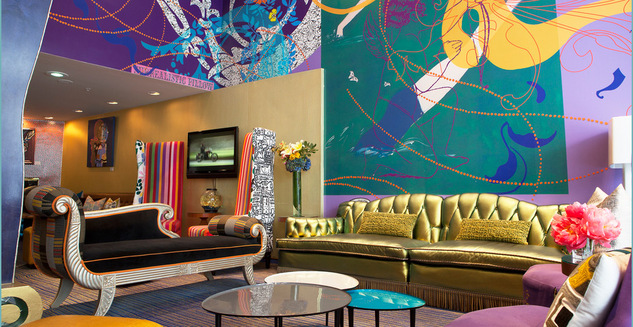 The nearby and homier Prescott Hotel, one of the Kimpton Hotel Group's many properties in Frisco, offers four-star service and well-adorned though manageable for $390/night and over in peak season. Elsewhere in Kimpton's holdings you'll find The Hotel Monaco ($285+), a massive space only two blocks from Union Square, The Hotel Palomar ($215+ if you book early) offers guests a more elegant experience and five-star service high-above the SoMa district. That's South of Market, btw.
The more whimsical Serrano Hotel ($325+) is a great fit for those who want to be close to the theater district. For those who want to stay in their boutique-sized room and flex their noggins, the Serrano also has a great board game menu. And an edgier, poppier experience meanwhile can be found at Hotel Triton, where green guests may get off on staying in one of this colorful fantasia of a hotel. Check website for rates.
Eco-conscious visitors will also be interested in looking into The Orchard Garden ($200-$300/night depending on availability), where organic materials, recycling and non-toxic everything coexist alongside luxury. And any fan of Mark Twain, he who famously called San Francisco a "city of startling events," must at least visit the restaurant at the airy, animal-friendly Union Square hotel named after the famous author ($170-$215/night).
The 16-floor Hotel Adagio's ($400+) Moorish-meets-modern design keeps it elegant but relaxed in a space dating back to 1929, an era also invoked at The Hotel Rex ($150-$230+), where eclectic paintings by local artists and deep, cozy chairs all lend themselves to the old world salon aesthetic. If the Rex and Adagio transport guests to the 20s and 30s, the admittedly irreverent and fun-loving Phoenix ($100-$200+) is all about the rocking, rolling and at-times kitchy 50s, even down to the Hawaiian print comforters.
Travelers looking for less rock and more relaxation may be intrigued by yoga and spa treatments at Hotel Vitale ($250-$500 depending on season) on the Embarcadero Waterfront, where the staff strive to give guests "fast peace for your fast-paced traveling lifestyle."
The very affordable Good Hotel ($89-$139) on 7th Street, offers bohemian chic rooms for bargain prices (less than $100 a night). The Best Western Americania offers similar prices across the street, and has the added benefit of Custom Burger and Custom Lounge on the bottom floor.
We've also had great success with Metropolis ($130-$160) an equally budget-friendly, more new-age, funkier option in a circa 1911 building. Rooms are cramped, yes, but that should encourage you to get out and enjoy the neighborhood. Meanwhile, down the road a bit in Pacific Heights, you'll find the gay-popular Queen Anne ($150-$350), a hearty melange of Victorian decor and cosmopolitan modernism that's fit for — well, you know.
If you're more artsy than regal, check out the very gay-friendly The Renoir Hotel on McAllister, near the Civic Center. It's affordable and always packed on pride. And those of you into theatrics who opt out of the Serrano, why not investigate Halcyon Hotel ($80-$100+) a 1912 building that has rooms with small kitchenettes should you decide on staying in San Francisco for a longer spell, which is a distinct possibility.
All rates fluctuate depending on season and rooms, so check with hotels before booking.