16 Palm Springs Treks Out Of The Pool
2.11.2013
By Andrew Belonsky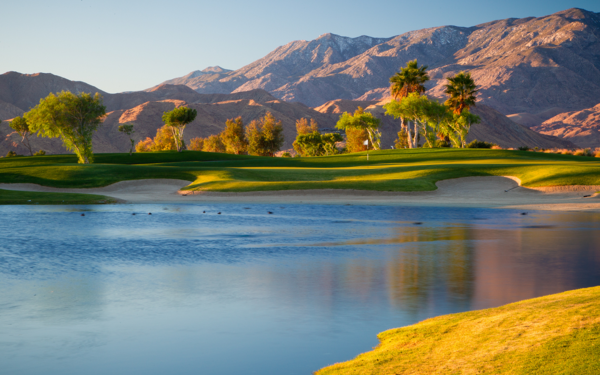 If you're willing to drive an hour north, hit the trails in the San Bernardino Mountains. Heart Rock's 1.7 trek is an easy route for casual hikers, or a picnic up the 4.6 trail to Jamabad Point. For experienced hikers, The San Bernardino Peak via Angeles Oaks will let you get up on the range's crowning peak, San Gorgonio.
More trails can be found down south at Idyllwild, but there's also some pretty great rock climbing at Suicide Rock and Tahquitz Rock. Or, if you'd rather hit the woods on wheels, take a bike on one of the park's nine official trails. If you want to hit a national park with cultural relevance as tall as its Yucca brevifolia trees, head to Joshua Tree. We've recommended this iconic wilderness when we were in Las Vegas, but it's worth suggesting again. And the park, known for its incredible trails, will soon get even better: Congress is set to pass legislation opening up 29-miles of mountain biking paths.
Back closer to town, Palm Springs has acres of golf courses to enjoy for various fees. Even if you've never swung a club before, why not spend an afternoon chasing balls at Escena Golf Club, where 18 holes runs $30-$47/round, or, if you're looking for a truly affordable rate, at the Tahquitz Golf Resort, where you can get reduced twilight and sundown rates. You may not be able to see the ball, but you can feel around for it.
While there are a few lakes around Palm Springs, but the only one that's truly open for swimming is man-made Lake Perris, where locals and tourists looking for chlorine-free splashing have gone for decades. If swimming in open waters isn't your thing, take out a pontoon or fishing boat -- if nothing else, the sun reflecting off the water will give you a wicked tan.
Adventurous types visiting Palm Springs will definitely want to try rock climbing on the mountains' boulders, and for newcomers, get a lesson at either Uprising Rock Climbing Center or the Vertical Adventures Rock Climbing School, both of which will help you get a grip on the ins and outs of rock climbing before setting you loose on the mountain.
While the hotels keep their pools open all winter long, much of Palm Springs's action takes place on the slopes. Visitors can go cross-country skiing just off tram at the San Jacinto Mountains, or tackle the steeper slopes of Big Bear Lake in the San Bernardino Mountains about an hour east.
No matter which mountain you visit in the winter, though, you're sure to be greeted by a winter wonderland aided not only by the range's high altitudes, but by resort owners eager to fulfill your every need.