Out's Favorite Spots To Play In Miami
2.21.2013
By Andrew Belonsky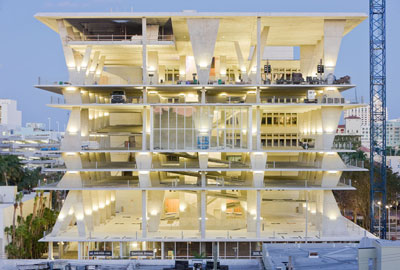 Left: 1111 Lincoln.
SHOPPING:
Miami is more than one big party. There's of course plenty of shopping. We've had great — and expensive — success with the designer duds at Alchemist, an upscale shop designed by Herzog & de Meuron, the team behind the Bird's Nest stadium erected for the Beijing Olympics. The Webster on Collins Avenue is the place to go for hard-to-find brands like Robinson les Bains denim and celebrity chef Michelle Bernstein's famous Crumb on Parchment eatery just opened an outpost here so shoppers can refuel before they drop.
For some new tunes, we recommend Sweat Records, and vintage threads can be found during an afternoon roaming around Flamingo Plaza or Plato's Closet. And Base design shop has enough clothes, books, and home and interior goods that you won't have to go anywhere else.
In addition to all the sartorial splendors, Miami is also brimming with art and performance. The town becomes a who's who of the art world the first week of December, when hordes of buyers, collectors and makers descend on the beach for Art Basel Miami.
The rest of the year, there's the impressive Bass Museum in Mid-Beach; Don Rubell, Studio 54 owner Steve's brother, and wife Mira opened the RFC Museum to give visitors a taste of their expansive collection, one that's nearly rivaled by Rosa and Carlos' de la Cruz's collection, which they've also opened to the public in an impressive new space.
The Wolfsonian Museum's permanent collection of art deco, colonial and political propaganda are must-sees. The new Miami Art Museum will no doubt be essential viewing once it's opened this coming fall, but in the meantime check out MoCA Miami on the mainland. Interested in alternative art? Check out the Bas Fisher International, a gallery founded by artists Hernan Bas, a former Miami resident, and Naomi Fisher that features new and upcoming artists.
Herzog & de Meuron pop up once again at 1111 Lincoln Road, a concrete and steel open-air wonder commissioned by developer Robert Wennett. This space, often called "the parking building," is an innovative melange of architectural, retail and residential splendor that Herzog called "all muscle without the towel" and that offers unparalleled views from top to bottom.
New World Symphony's Frank Gehry-designed building and Cesar Pelli's work for the Adrienne Arsht Center for the Performing Arts provide architectural splendor to match the ballet, symphonies, operas and other performances constantly happening around town.
And if you want more architectural adventure off the art deco path, we recommend the Ancient Spanish Monastery, The Monastery of St. Bernard de Clairvaux, which was first constructed in Segovia, Spain, 900 years ago and then disassembled to be rebuilt in Miami in the 1950s. It was a labor of love, and one that definitely benefits the Magic City.