10 Trails, Bikes And Beaches Off Miami's Party Circuit
2.21.2013
By Andrew Belonsky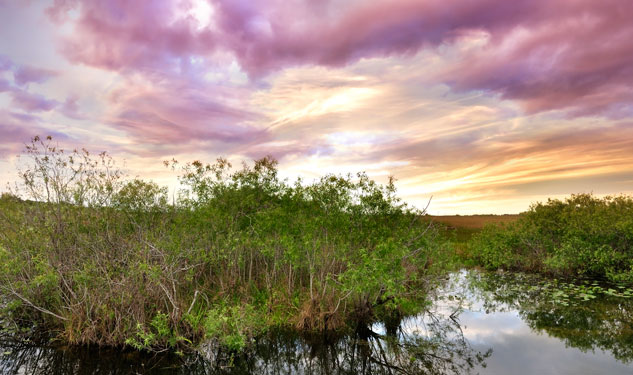 The Everglades
The myth goes that Spanish conquistador Juan Ponce de Leon was looking for the fountain of youth when he stumbled across Florida and its native people.
The existence of such a fountain in Florida makes sense, since the sweltering, mysterious Everglades are a fitting place to hide a forbidden oasis.
And South Florida remains an enchanting destination for nature lovers, boasting a wide array of majestic trails, magical underwater dives, and outdoor adventures that legends are made of. Here are ten of our favorite places to get back to nature.
First up, The Everglades...
The premier Florida park, the luscious 1.5 million acres of The Everglades are home to almost 1,000 different fish, plant, mammal and reptiles, including 36 threatened or protected species like the Florida panther and West Indian manatee.
Hardcore hikers may enjoy the Coastal Prairie Trail, while those looking to avoid biting flies and mosquitoes - they can be a problem while trekking through the wetlands' overgrown trails — may want to embark on an airboat tour through the Everglades' labyrinthine marshes and waterways.
You don't want to just look at the surface of the ocean, do you?