Winter Sun Playlists
1.28.2013
By Out.com Editors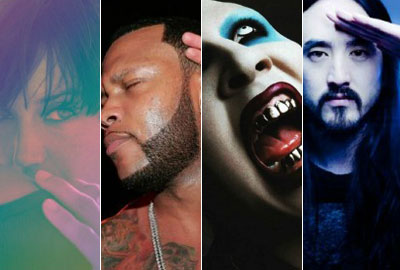 33 Tracks To Get You In The Miami Mood
No disrespect to Gloria Estefan's backup band, but Miami is a sound machine unto itself. Scores of artists, some predictable, some surprising, have lived, loved, worked and broken down in Miami. Enrique Iglesias was brought up in Magic City to avoid Basque militants threatening his family, hail from Miami. Miami Bass acts like Maggotron and Quad City DJs, the Freestyle beats of natives Debbie Deb and Expose and its aural descendants, the hip-hop of Flo Rida and Trina, are all synonymous with the city's party scene.
Dig a little into the sand and you'll discover unforeseen musical gems from Marilyn Manson, who formed his eponymous band in Florida, and Cat Power, who lived in and recorded part of Sun, her appropriately named album, there.
Here, we've compiled a booty-dropping, hip-hopping, glam-rocking Spotify playlist to get you in the Miami mood.
If you don't have Spotify, visit their website and download it. It's more incredible than the astounding range of Miami-born bands.
OUTTRAVELER: Favorite Spots to Play in Miami