No More Distractions
1.16.2014
By Out Contributor
Photography by Rob Howard
Jeff, artist: When we met, I was 26, in grad school in London, and Rune was a year older. We were both hopeless romantics. We weren't very good with thinking practically about things.
A year later, he asked me to marry him. When I left the U.S. in '96, I don't remember there being any conversation about things like marriage. We weren't thinking about it. It was never something I desired or craved. It didn't really make sense to me. When Rune asked me, I said I'd do it for the visa because getting married in Norway allowed me to stay in Europe.
Later we visited D.C., near where my parents live, and we went to a punk rock store and saw these matching rings. They looked like bubblegum rings, silver with two hearts with an arrow through it. After we left, Rune said, "Did you see those rings? Should I get them?" I kind of dryly said, "Sure, go ahead." And those were our first engagement rings. We keep them on this little plug-in light we found in a flea market in Madrid. We took the icon of the saints out, and we put in a picture of us kissing.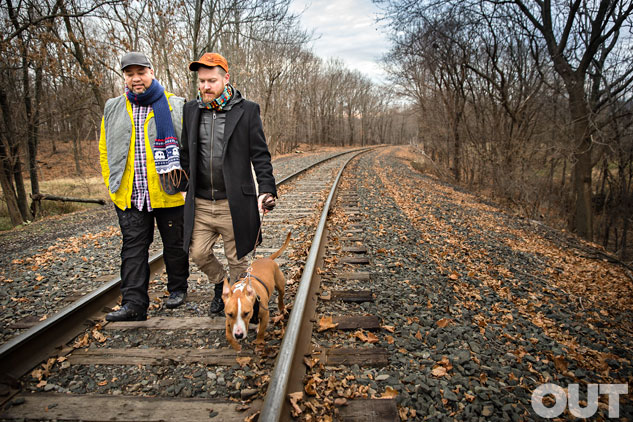 Jeff & Rune with their bull terrier, Stein-Olaf
Now we've been together 15 years, and I understand why a lot of relationships don't work. When people get married, there's no way to know what that means. I think you figure it out over a really long period of time. After we were married five years, I told him, "If you asked me now, I would say, 'Yes,' and I would know what I was saying yes to."
Since we moved to Hudson, N.Y., and we have our studio space, it's amazing how things have changed. We've minimized the distractions—there's less pressure to go out and see people. Ellsworth Kelly lives up here. Maybe we'll be like that: We can kind of disappear and reappear whenever we want.