How Momma Met Mommy
1.16.2014
By Out Contributor
Photography by Rob Howard
Cindy, Webmaster: In high school, there was this girl sitting on the bleachers all by herself, and I asked my friends if anybody knew who she was. One of my friends said she was the new girl from New York City, and I said, "Get her to come sit at our table at lunchtime." I mean, this is 1974! We thought we were the only two people in North America that felt the way we did. And both of us had dated boys when we were in high school. We just felt we were good Catholic girls that knew how to control our emotions—it seemed to be the only logical explanation as to why we weren't interested in them. But then we both realized: Hey, guess what? I'm really interested in her. We were ecstatic that we loved each other and had found each other. But we also knew that it wasn't going to be welcomed by people. We felt very isolated, very alone.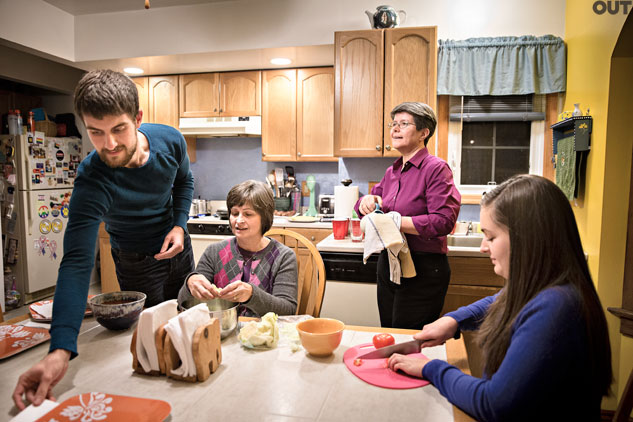 The last few weeks of high school were a living hell because two boys pointed the finger at us—they had no idea they were right. We were threatened with beatings and rape to turn us the right way. But our friends stood by us, and one teacher stood by us. Afterward, Maureen and I actually made a conscious decision to stay home and commute to college because family was so important to us. We wanted to try to work it out with them. And we were quite the anomaly in the gay community at the time because so many people just went to the cities and left their families from the suburbs. Instead, we were able to be out and work with them while our relationship grew.
When our son was a freshman in high school, he actually played DePaul in basketball, and Maureen and I went to watch him. It was the first time we had gone back to our high school since we graduated. I asked Maureen to sit on the bleachers the way she did that day and I took a picture of her. I showed the kids: This is how Momma met Mommy.