The Heart Outside of My Body
1.16.2014
By Out Contributor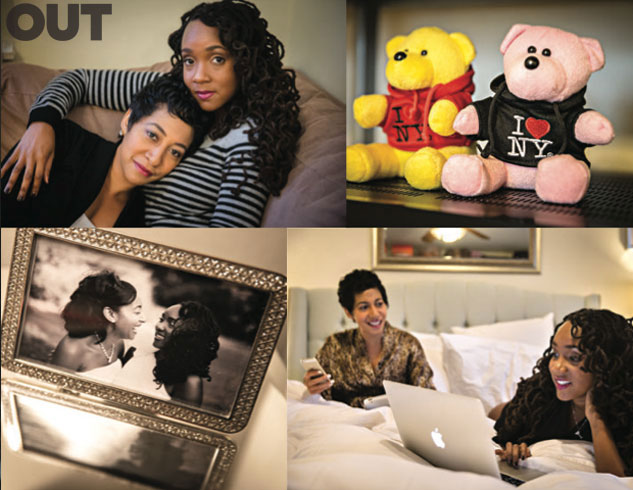 Danielle, politico: The next morning in Napa, we come down for breakfast, and the man's face is red and his wife is rubbing his back. And he says, "You know, I just want to apologize for the fact that it didn't occur to me that when you were speaking about marriage, you were talking about being married to each other. I'm very embarrassed about that, and I'm very sorry." And he is choking back tears, and it was clear that, for the last 24 hours, he'd been beating himself up. So I looked at him to lighten the mood and I said, "You don't have to apologize to us for being a Republican!" And he started laughing. It was in that moment we were like, Wow, that's really powerful. Now his view is forever changed, to have dined with these youngish black women who were so fun. We all had a great time, and it turned out we were lesbians and married, too?
If you don't know Aisha, you feel her when you walk into a room and she's there. She carries this immense presence and power that is so addictive that you just want to be around it. One of the reasons why I married her and fell in love with her is because she's not a talker. She's not smoke and mirrors, and I think that's why we are a good team: I can dream, and she will actualize it.
I say all the time that out of seven billion people on this planet, I've found someone that makes me feel like I want to live, and not just live, but live out loud and love out loud. I want to shout this out from the rooftop. Aisha is like my heart outside of my body; there is something powerful that beats there that I know gives me life.
"Out of seven billion people on this planet, I've found someone that makes me feel like I want to live, and not just live, but live out loud and love out loud."