All the Way Thru
1.16.2014
By Jason Lamphier
Photography by Rob Howard
Ariel, communications director: I was in an electro-queer band called Tayisha Busay, and in September 2010 we opened for MEN in D.C. at this annual festival Phasefest. I'd heard of [Samson's old group] Le Tigre, but I couldn't tell you any of their songs. But it was for the better because then I didn't know who JD was. Nothing happened that day; we just exchanged numbers.
One day she called me and said MEN was looking for opening bands for their tour. We show up at soundcheck the first day in Boston and she sees me and jumps off the stage and runs over to me and gives me a bear hug. That was probably the first time we touched. At that moment I was like, "Oh, that's what I feel." We started dating in March 2011 and we've talked every day since.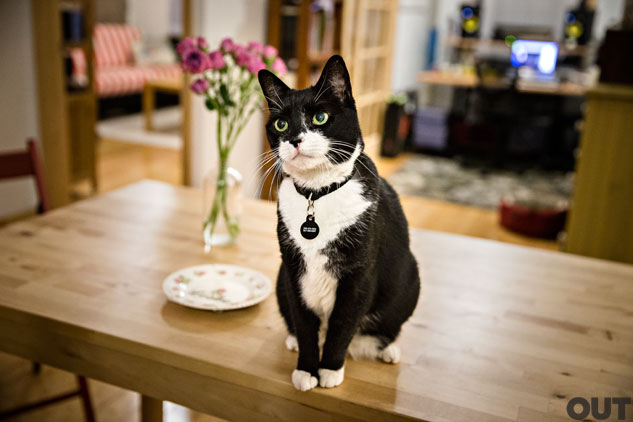 She's always like, "I'm feel like I'm boring." I say, "I sometimes wish you were more boring." JD is a passionate, creative person; it's new things all the time with her. The second I met her I could tell she wants to have a rich emotional relationship with her family: with me, with children, whatever that means. She's a heart-on-her-sleeve type of person. That's part of the excitement: I know I'm never going to be bored. We like leaving love notes for each other. She puts them in the freezer, in boxes of food—places where I'll find them later. For one of her tours, I gave her this package of notes so that every day she was away she'd have a little thing to open. I put in a ticket stub from a movie we went to, a friendship bracelet… I put my perfume in one. When you have a relationship like we do, where you're talking a lot via text, you want that real-life connection.