When Stars Collide
1.18.2012
By Neil Patrick Harris and David Burtka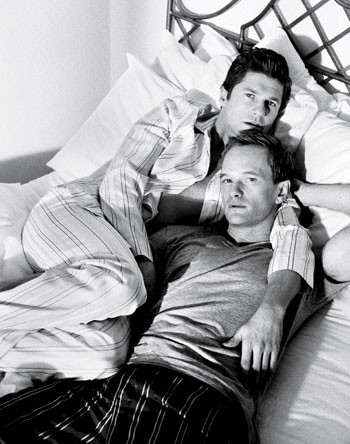 I initially fell for David harder than he fell for me. I was in love with him before he was comfortable saying it, and I think that speaks to our past experiences. I remember saying, "I think I love you," and he was like, "That's really nice," which is not necessarily what you want to hear. But I appreciated his honesty in not jumping the gun and saying something because he felt obliged to.
Two of the things I hold dear, as tenets, are creativity and authenticity. Creativity can be on any level, but authenticity is key, too. If we have a fault, it's probably over-communication. When I'm cranky, I'm admittedly cranky. When I'm in a hurry and distracted, I can't act like it's any other way. And he's good with that, too. So we talk things out. I don't want to paint our relationship like we met and it's been happy family fantastic-ness ever since. What defines a relationship is the work that's involved to maintain it, and it's constantly changing. Sometimes I'm deeply in love with David and head-over-heels, and sometimes I question whether it's going to work out and is meant to be. It's like a business relationship, as well as a personal one; we have a business together and that's maintaining our love for one another.
David first proposed to me five years ago on the actual street corner where we met. We were on our way to an event at an Indian casino 45 minutes out of town in a limousine, and David wanted to stop for some reason that I didn't quite get. I thought he wanted to get some booze or something. And then he got on one knee and proposed, and I was so freaked out by it that I said, "Yes," but I didn't know what it meant. Then I got the ring and loved it, and a year later, on Valentine's Day, I proposed to him in Santa Monica. That was four years ago. The callus on my right hand is long-formed—and not from masturbation. I'm dying to move over to the other hand. I'd also like to call him my husband. I'm not the biggest fan of the word "partner": It either means that we run a business together or we're cowboys. "Boyfriend" seems fleeting, like maybe we met two weeks ago. I've been saying "better half" for as long as I've been able to. I think it's a little self-deprecating and clearly defines that we're in a relationship, but it would be nice to say "my husband."
Children were always talked about, but there was a certain point -- when David was in L.A. and I was working on How I Met Your Mother, maybe season two or three -- when we both agreed that if we wanted to have kids, we didn't want to do it super late in the game. We wanted our parents to enjoy the process and to be young and vibrant enough to throw a ball with them, or to chase them around without using a walker. That was the eternal game-changer -- now we rarely fight in the big ways. What's the point? We're in this for a major long haul.
READ NEIL PATRICK HARRIS IN 'MAN'S MAN' FROM 2008