When Stars Collide
1.18.2012
By Neil Patrick Harris and David Burtka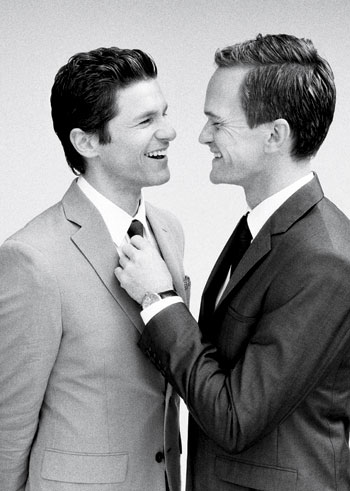 I remember being in my mid-twenties, lying in bed thinking, I've never taken a shower with anyone before; I've never had any kind of long-term relationship. I remember thinking that the rest of my life would be solo. I wasn't weepy when I thought that -- it was just a realization that I had gone this long being self-sufficient. Thankfully, the world changed and perceptions changed, and my life went to the East Coast, where there's a much greater acceptance of anonymity and freedom. In New York, I was able to date with my head held higher. In L.A., it felt much more gossipy.
SLIDESHOW: NEIL PATRICK HARRIS MAN'S MAN (2008)
It's all baby steps: You have to be OK with telling your friends you're going on a date; you have to be OK with the people in your world meeting and judging them; you have to be OK with breakups. I'm infinitely grateful all those steps led to Mr. Burtka -- once we started talking, we never stopped.
Staying with each other didn't seem like going to the next level because we were sort of transients at the time. We thought if we were both going to be paying $5,000 a month to use someone else's sheets and towels, we might as well do it together.
We found a place in Harlem that a woman had been living in for 40-odd years, and it was roomy and reasonably priced. We went to L.A. and got this moving truck and collected his mattress and bed frame and some stuff we each had in storage, and we started a journey across the country. We stopped in Albuquerque, where my family is, and they gave us some stuff. And we went through Memphis and up to Michigan, where his family is, and picked up his parents' piano. We went slowly across America, filling up this truck, and by the time we got to New York, we had a new life full of furniture.