Asking for It?
9.11.2013
By Sam Lansky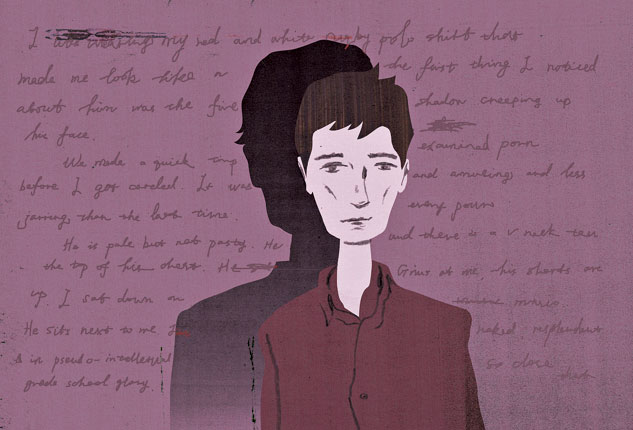 I continued in this entry, writing in surprisingly explicit detail about the sex itself, which is squirm-inducing to read now, since it's a performance of affected toughness. ("I have to admit, the man is ridiculously sexy. The muscles are tense in his abdomen.") But the final thing I wrote, which I'm sure I thought was very funny and subversive at the time, now just makes me sad.
"Jim opens the door to the shower and joins me," I wrote. "He is not welcome, but I have some sense of etiquette, so he stays… He shakes up a bottle of shaving cream and starts to lather. I wonder where it came from; I don't have to shave yet."
If I was looking for approval from my anonymous online fans, I found it. "Is this fiction — er, friction?" one commenter asked. I didn't respond; I didn't want Jim to get in trouble.
The following year, my parents separated, and my father took a job in New York; I went with him and finished out my adolescence in the city, at a Manhattan prep school that was a better fit for an image-obsessed, self-involved kid with delusions of grandeur like me. Partly I left, though, to escape the wreckage of what had happened with Jim, which I thought about constantly.
Looking back on my diary now, I can see how I was trying to change how I felt at the time, empowering me to tell the story in a way that allowed me to wrest back the control I realized I'd lost after he raped me. Even if I'd pursued him, I wasn't of the age to consent, and I must have known then that there was something wrong with him, something dark and predatory that, naïvely, I found exciting rather than repugnant. But it wasn't until I reached Jim's age that I realized just how transgressive it was; now, the idea of being with a 14-year-old myself, even an unusually precocious one, is sickening. And even as I return to it, my teenage diary doesn't grant me any real insight, because I was never a trustworthy narrator. The record that I left behind only tells me how I wanted the world to see me, and nothing about who I actually was.
That's frustrating to find when looking for answers about how complicit I should feel. In a post-Steubenville rape culture, lines regarding consent feel blurrier than ever, even if it's a subject that's primarily associated with the abuse of women by men. If I identify as a rape survivor, does that require that my experience be framed through a lens of assault, violence, and fear? What if I was quite literally asking for it? Would it be different if I had been a 14-year-old girl? Do I still have the right to feel traumatized, or to have the experience shape my future romantic and sexual encounters, largely for the worse? In rape, the victim is never at fault — but what about me?
Back in Portland not long ago, I returned to the scene of the crime: Our family home, long since sold to parents with kids who I hoped, sincerely, were happier and healthier than I had been. I parked my car at the mouth of the cul-de-sac and walked down the long driveway, then up the trail that led through a sparsely forested woods and into Washington Park, where there was a light rail station. That was where I'd arranged to meet Jim, I remembered, and we had walked up to my parents' house together.
Standing at the apex of the trail, details crystallized in my memory that I hadn't bothered to include in my diary, ones that were more interesting, and more human, than anything I'd chosen to document as a 14-year-old. I remembered how I'd borrowed one of my father's button-down shirts to wear, something expensive and impractical, even though I was just walking 10 minutes through the woods. I remembered how sallow Jim looked when I met him at the station, and thinner than he'd been months before, and when I said something about that he said that he had been taking pills, but he didn't tell me what kind.
I remembered how in the elevator he had said something, very casually, about how his father had killed himself a few weeks earlier, and how uncomfortable that admission made me. I remembered that, walking up the trail to my parents' house, we had passed a girl I knew from school who was jogging with her mother, and I'd stopped to say "hi" to them but didn't know how to explain who Jim was, so he'd hung back a few paces, and they'd looked at both of us funny. I remembered that, instinctively, I'd saluted a tree marked "Sargent Cherry" as I walked past it, as I always did, and when I explained the joke to him he didn't think it was funny, and I felt small and infantilized.
And I remembered that I had walked him back to the train station after he had raped me, or I'd seduced him, whichever it was, and after he was gone, I'd sat on a bench along that trail in the summer sunshine and cried for a while before I went home to write about it.