Is This the New Condom?
9.9.2013
By Tim Murphy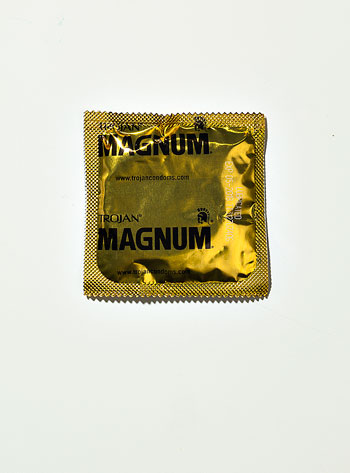 PrEP As a Health Booster
Then again, there is the argument that being on PrEP actually makes people safer because it raises their consciousness about their health. The iPrEX study found that participants reported decreased anal sex and increased condom use, though that might partly be because participants were regularly meeting counselors as a requirement of the study. In addition, participants initially did not know whether they were on Truvada or a placebo.
Being on PrEP requires seeing a doctor four times a year for an HIV test and kidney and bone tests. Being that connected to one's health, say PrEP advocates, may actually bolster safer choices.
That seems to be the case for Gustavo Varela, 25, a program coordinator for an LGBT youth group in Chicago. Varela was on PrEP in the iPrEx study, but isn't on it currently. "I used condoms when I was on PrEP, and if I went back on PrEP, I would still use condoms," he says. So why be on PrEP at all? "I've had slip-ups where I didn't use a condom in the heat of the moment, or if I was drinking," he admits. "It's an extra precaution."
That extra protection is also sought by Darius Mooring, 34, an African-American college bookstore manager in Bethlehem, Penn. He says he is researching if his health plan will cover PrEP. "There are times I use condoms and times I don't," he says. "I will have sex with guys who I know are HIV-positive."
"If I go on PrEP, will I be condomless in all my sexual encounters?" Mooring asks. "I don't think so. But I'm not going to live in fairy tale where I tell myself I use condoms all the time. PrEP will be adding another strategy to my HIV prevention."
That is how PrEP advocates want to frame it — as another tool in the kit of HIV prevention, in the mix with condoms, monogamy, negotiated safety, and keeping HIV-positive people treated and undetectable. For example, you might be on PrEP and forego condoms with your HIV-negative boyfriend, but use them when you play outside the relationship. Or you may go on PrEP for periods of time when you're having multiple partners, then off PrEP once you're in a relationship.
Daring to Talk About It
Certainly, PrEP may be a good option for guys who put themselves at risk again and again. At D.C.'s Whitman-Walker Health, Dr. Raymond Martins speaks of a patient who came to him three times for post-exposure prophylaxis, or PEP, otherwise known as the HIV "morning-after" regimen: After possible exposure to HIV, a patient takes HIV meds for a month to block the infection.
According to Martins, that patient is a perfect candidate for PrEP. "He never uses condoms. Better that he's on PrEP as a permanent backup for his lifestyle than come in every month for PEP."
In some ways, it's easy to accept PrEP if you think of it as an extreme solution for turbo-sluts who fail again and again to use a condom — if, in other words, you pathologize it. Several friends I spoke with about this story said they couldn't understand a person having such a hard time using condoms that they would have to actually go on an HIV med to prevent getting HIV. To that, PrEP advocates say it's far safer to be on Truvada for a period of time than to live with HIV for a lifetime. Even well-treated HIV has been shown to have myriad effects on health, such as accelerated aging, in the long-term.
But it also can be easy for us to forget that only 30 years ago, nobody thought of a condom as a routine part of sex. "If HIV infections truly were a hetero issue, there'd be an alternative to condoms by now," says Dr. John. "I don't think the world of straight men would settle for using a condom their whole lives."
Several men I talked to for this story told me of their dislike of condoms defiantly, without shame. In Boston, hairstylist Scott Owen, 48, said he'd never used condoms and had somehow stayed HIV-negative all these years. "I don't like condoms," he says. "I can't enjoy sex with them. They desensitive it for me. I always just figured that if I became HIV-positive, I'd deal with it."
When he heard about the Boston branch of the iPrEx study four years ago, he immediately signed up. He's off PrEP now that he's finished the study, but he wants to go back on it. He also wants to do another upcoming study, to test the effectiveness of a rectal microbicide gel.
That gel may be among the many new tools in the HIV prevention arsenal years down the line. Others in development include looking at another HIV drug, Selzentry, for use as PrEP, as well as "mini-vaccines" that would require injections three or four times a year. Meanwhile, studies of Truvada as PrEP continue as a way to assess effectiveness, adherence, and safety over time.
Advocates often talk of PrEP in birth-control terms: If a condom is like a diaphragm, then PrEP is the Pill, with perhaps more options in the works. "Women change methods of contraception over time," says Pickett. Likewise, he says, "No one thinks of PrEP as a lifetime strategy. It's for when you need the support."
In the meantime, Dr. John has no apologies for being on PrEP, even if he's not ready to go public about it. "We need to be able to talk about our desire to have sex without a barrier," he says. "Sex is about getting as close to someone as you possibly can. I think we're entitled to that. And as long as the answer is, 'Well, you should just wear a condom all the time,' you're obviously not reaching everybody."