Is This the New Condom?
9.9.2013
By Tim Murphy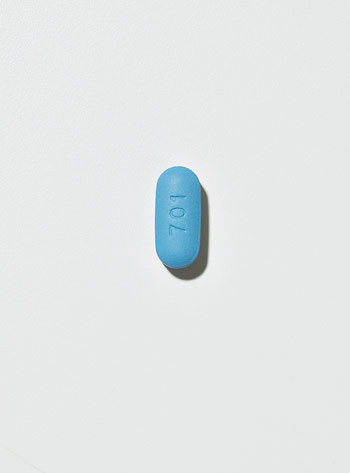 According to Pickett, this means that condom-only prevention campaigns will never succeed in bringing HIV rates close to zero. "If condoms were so wonderful and a part of human nature, we wouldn't have a problem with rising infections," he says.
And yet, PrEP doesn't seem to be catching on yet. Part of that is simply PR — not enough people even know what it is. Miller says that Gilead prefers to support LGBT health centers in getting the word out over doing direct advertising. Why would they not go full throttle to boost sales of PrEP? "They know it would be a potential PR disaster," says Pickett.
And indeed, public reaction to PrEP has been mixed, with many concerned that widespread PrEP use will lead to an explosion of unprotected sex in gay men. Says Kevin Cates, who works in HIV prevention at Chicago's LGBT-serving Howard Brown clinic, "I hear a lot, 'Oh my God, this PrEP thing is so awful because people are going to bareback like crazy.' "
One group in particular, the large Los Angeles–based AIDS Healthcare Foundation, has taken a vocal stance against the FDA approval of PrEP, creating posters and other media warnings against it. Michael Weinstein, the group's president, says it's wrong for the FDA to have approved Truvada for PrEP when the iPrEx study showed that a large percentage of participants failed to take it once daily as prescribed. "It's giving people a false sense of security," he says.
Risks Involved
The truth is that PrEP comes with risks. Truvada can cause stomach upset in the first weeks of taking it. The drug, though low on side effects as HIV meds go, has been linked to mild kidney and bone problems in a small percentage of HIV-positive takers. However, Dr. Robert Grant, a professor at the University of California, San Francisco, and head of the iPrEx study, says he saw only mild side effects in his HIV-negative participants. Among the dozen or so men on PrEP with whom I spoke for this story, some of whom had taken PrEP for more than a year, none reported serious side effects.
It's true that if someone takes PrEP spottily, they lower the amount of the drug in their body, exposing themselves to HIV. There is also the possibility of developing resistance to Truvada, thus losing it as an HIV treatment option. Granted, Truvada is just one among many HIV treatment options. Moreover, Grant says that the only people in the iPrEx study who developed Truvada resistance were a few whose HIV infections were not picked up during the initial screening process.
The more you adhere to the recommended daily dosage of PrEP, the closer to 100% protection you get. According to Grant, those in the study whose blood levels indicated they used PrEP four times a week still had a 96% risk reduction. Those with blood levels showing they used PrEP twice a week had 76% risk reduction. Grant says that experts still aren't certain exactly how little, and at what intervals, one can use PrEP to have it still be effective, which is why one pill daily is currently recommended.
There is also validity to fears about "barebacking." Even if PrEP protects against HIV, condomless sex still invites other STDs. Some, like syphilis, gonorrhea, and herpes, are fairly easily treatable. But in recent years, there have been outbreaks among HIV-positive men of sexually transmitted hepatitis C, for which treatment is improving but still difficult, expensive, and imperfect. In certain parts of the world, such as Japan and India, a new antibiotic-resistant strain of gonorrhea has rung alarm bells of a new STD epidemic. Simply put, nobody knows what new infections lie in wait down the road.
But despite those risks, several PrEP users I spoke with said they were unfazed. "I'm not going to let fear rule my life," says Damon Jacobs, 42, a Brooklyn family counselor who has not only taken PrEP for two years now, he's also started a Facebook page, "PrEP Facts: Rethinking HIV Prevention and Sex," to promote an open conversation and breaking news about it. Dr. John admitted he worried about getting hep C or drug-resistant gonorrhea, but "so far, I haven't gotten any STDs, so it's an abstract concern."
"I have to admit that since being on PrEP, I've become much riskier," says "James," 51, a New York City computer programmer.
Importantly, recent research has made it clear that HIV-positive people reduce their chance of passing on the virus by 96% if they take meds that make their blood levels of HIV consistently undetectable on tests.
James says he began PrEP because he has multiple sex partners and hates condoms — "Every instinct in my body says I don't want to wear them" — but he didn't want to potentially pass HIV to his HIV-negative boyfriend. "I can't tell him I'm on PrEP, but I'm trying to protect him," he says. He's contracted chlamydia a few times, he says, but in the near year he's been on PrEP, he's stayed HIV-negative.