The Men Who Want AIDS—and How It Improved Their Lives
8.8.2013
By Maral Noshad Sharifi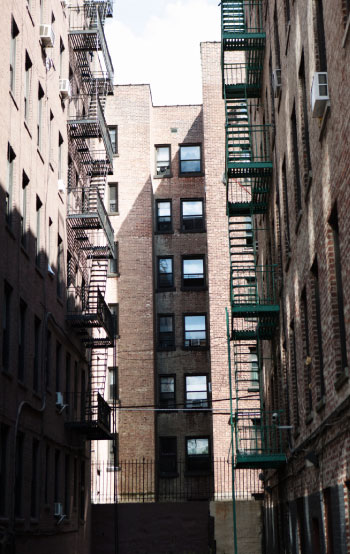 Born in Albany, Fortner was taken into foster care at the age of 14. His parents, addicted to crack, were unable to look after him and his eight younger brothers and sisters. By the time he was 17, he was living in Green Chimneys, a temporary housing center in New York City for homeless LGBT youth. At night he would join up with a group of transgender sex workers, dressing in dark blue skinny jeans, a button-up blouse, and high heels. He painted his face with purple eye shadow and shiny lip gloss and embellished the look with false eyelashes. His purse was filled with condoms and weapons such as a hammer, a screwdriver, and a blade.
"You'd get a lot of assholes that wanted to take advantage of me without paying," he says. "A few times a gun was pulled on me, but you threaten to expose them or call the police, and they either give you the money or take off running." One night he had sex with 14 men. "I could do it without alcohol or drugs, but it was a lot easier to do when I was high or drunk," he says.
In 2007, the Empire State Coalition undertook the first comprehensive study of homeless youth between the ages of 13 to 24 in New York City, and found that, on any given night, more than 3,800 youth were homeless on the streets of New York City, with a fairly even male–female split. Of them, 44.5% were African American and 28% identified as LGBT, with a further 11% unsure of their orientation or uncomfortable answering the question. The number of homeless youth in New York may be higher now, in the wake of a crippling recession. Covenant House's Nancy Downing, for one, claims she has seen an uptick in requests for shelter.
"We have on any given night about 300 youths staying here," she says. "I know that on a monthly basis we get at least 300 inquiries where we cannot respond and provide them with shelter."
State limits mean that young people can stay in runaway and homeless youth shelters for 30 days, and an additional 30 days with permission from the county youth bureau. After that, they are often on the streets again. "When they can't get a space, they're sleeping in Port Authority — they're finding places to sleep where people can't find them," says Downing. "They're sleeping under bridges, they're sleeping in alleyways, they're sleeping in stairwells."
Even in shelters they can be exposed to danger. "Gang recruitment happens in shelters," Downing says. "Pimps and traffickers also send in young people to recruit. They know that kids are leaving the shelter here, so they'll stand on the corner and try to convince youth that they'll be better off if they engage in prostitution — they'll have more money in their pockets. It's difficult to identify who's doing what, because the young person who is being sent in here may also be a victim of prostitution and trafficking." By addressing the issues and advising the youth, Covenant House tries to make them more aware of the dangers within their surroundings.
The high representation of homeless LGBT youth in New York City is not surprising to Boris Dittrich, LGBT rights advocacy director for Human Rights Watch. "LGBT youth deal with a lot of discrimination, especially in rural areas of the United States. Once the bullying at home leads them to run away, they all move to the bigger cities," he says, adding that New York needs to focus on prevention. "The education system should focus more on sexual diversity. That's not happening enough, and often is stopped by Republicans and religious groups."