The Men Who Want AIDS—and How It Improved Their Lives
8.8.2013
By Maral Noshad Sharifi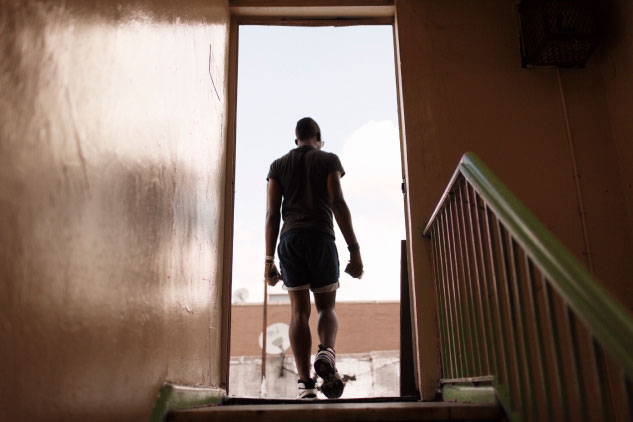 For Johnny Guaylupo, a program coordinator for Housing Works, which connects New Yorkers living with HIV to primary care and social services, the best way to help young people avoid the vicious cycle in which Fortner and others have found themselves is to get them off the streets and into subsidized housing sooner, thereby reducing their likelihood of engaging in risky behavior. Even if they already have HIV, housing can help them live longer. "If you have stable housing, you're able to at least take your medication, eat nutritious meals, get enough sleep, and not go through the stress of living in the streets or having to sell your body," he says.
Since March 2011, Guaylupo has been responsible for targeting homeless LGBT youth between the age of 13 and 24 who are infected or are at risk of becoming infected with HIV. The aim is to link them to emergency housing, medical care, HIV testing, counseling, and other supportive services. They also try to map certain trends. "Are they going out clubbing? Are they doing sex work? Are they doing sex work online, and if they are, where?" he says. The rise of the Internet has moved much prostitution off the streets and onto sites such as Rentboy.com, and although there are no statistics of homeless youth sex workers in New York City, Guaylupo believes it could be in the thousands.
Aregbesola worries that not enough is being done to prevent youth from becoming infected with HIV, and warns that the outlook is getting worse. "A lot of HIV prevention funding has been slashed by the New York State Department of Health," she says. At the same time, HIV infection rates are on the rise. At the end of last year, the CDC issued a report that showed that HIV infection rates from 2008–2010 rose 12% for all gay men — and a staggering 22% for young gay men. More than half of those (55%) were black men. "It really breaks my heart," says Aregbesola. "It is a chronic illness — there is no cure. Unless you have some type of magnificent immune system, you will be on meds for pretty much the bulk of your life."
Rivera, too, believes that HIV could have been prevented in those young men who are grateful for the disease if only there had been the resources to reach them. "It could have been if they had had the proper tools, education about what HIV and AIDS is and how it's spread," he says, adding that many young gay men also feel alienated from social programs designed to help them find jobs and develop vocational skills.
Fortner's story is typical of this narrative. "You live in the moment," he says, "and you feel like, I'm not going to be shit, so I might as well just get high and numb everything I'm feeling — I'm not going to get rescued, this is going to be my reality for life. You really feel that way."