The Men Who Want AIDS—and How It Improved Their Lives
8.8.2013
By Maral Noshad Sharifi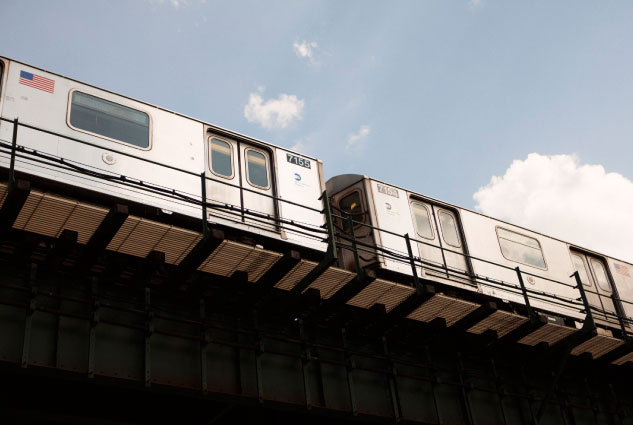 In May 2013, HASA was serving 43,845 people, of whom 65.3% were adult men; it also served 156 youth aged 17 and younger. The Bronx has the highest HASA representation of the boroughs, at 36.7%, followed by Brooklyn, Manhattan, Queens, and Staten Island, respectively. Half of those eligible for services are African American, one-third are Latino, and just fewer than 9% are white.
We leave Fortner's rooftop and retire to O'Brien's, an Irish pub a few blocks away. Most of the barstools are occupied by middle-aged Irish Americans watching golf. There are portraits of racehorses on the walls alongside illustrated maps of "Lovely Leitrim," a mountainous county in Ireland. Behind the bar hangs a small brass plaque that reads Sinking ship — here's the last drink. The bar manager invites us to help ourselves to sandwiches, great doorstops of bread filled with ham and cheese. We play a round of pool as Bruce Springsteen sings "Born to Run" on the jukebox. Fortner is good and wins handily, but his energy is flagging. In addition to AIDS he has epilepsy, and he begins to worry that he might experience a seizure. We head back to his building, taking a route that is familiar to Fortner from his days offering sex for money. A train rumbles above on an elevated stretch of the subway. Fortner points to a 24-hour laundromat. "I used to hang out there a lot," he says.
After his diagnosis, Fortner got so sick that he wound up in a nursing home with four blood clots in each leg, unable to walk for months. "I went from being confined to bed, having my Pampers changed, to a wheelchair to a walker to crutches and then a cane."
One of the ways in which HASA works is that recipients have to have a T-cell count below 200 — the level at which AIDS is diagnosed — to be eligible for benefits, encouraging potential recipients to let their health deteriorate to dangerous levels. Fortner sums up his own process of coaxing his HIV into full-blown AIDS as: "Don't take no meds, don't go to a doctor. And that's what I did. I sabotaged myself to get my numbers down."
Fortner also started abusing heroin and crystal meth. "I was doing every drug and my drinking was crazy," he says. He also became more sexually promiscuous: "I kind of slept with anyone and did anything they wanted to do with me."
The plan worked. In 2008 he became eligible for housing, financial aid, free healthcare, and food stamps. Once he reached entitlement he could keep his benefits even if his health improved, so he started taking his pills.
After spending his life in dozens of different houses and shelters, Fortner finally had his own apartment. "It felt like heaven when I walked in," he says. "I'm still in shock that I actually got my apartment. If I didn't have my apartment I would probably still be a sex worker."
Temi Aregbesola was the director of prevention and outreach programs at the Bronx Community Pride Center, an organization that served LGBT youth until it closed in the summer of 2012 due to economic strife. She has often broken the diagnosis of HIV to young gay men, ages 16 and older, and has been shocked by some of the responses. " 'Oh, if I have HIV, I'm good, they will take care of me. I'm going to get housing, I'm going to get my meds,' " Aregbesola paraphrases. "Outside their world, there is still a lot of stigma. But in their world, [it's] 'Oh, I got the monster? This is now an opportunity for me to be better than I was last year.' "