The Men Who Want AIDS—and How It Improved Their Lives
8.8.2013
By Maral Noshad Sharifi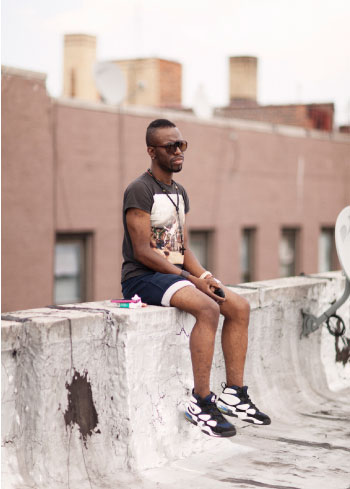 Pulling through by contracting HIV is the kind of specter that alarms people like James Bolas, director of education for the nonprofit Empire State Coalition in New York. "It's sad that really young people are forced to take this measure in order to survive," he says, adding that he first heard about young homeless people rationalizing HIV infection as a means to obtain benefits as early as 1987, when the virus was still untreatable.
Nancy Downing, director of advocacy and legal services at Covenant House New York, a youth shelter, has also learned of kids who consider getting infected with HIV/AIDS as a means of survival. "It's bone-crushing," she says. "It's unbelievable that kids have to go those lengths to get the services they need. Young people are sometimes not looking at their long-term future — they can see only the short-term future — and that is a developmental issue. It's going to have an impact on them for the rest of their lives. Some might not even take the medication, because at their age — again, developmentally — they might not see the need."
Despite the wealth of anecdotal evidence, the New York State Office of Children and Family Services, through its Office of Youth Development —which helps oversee and fund programs for homeless youth — says it is unaware of homeless gay youth purposely getting infected with HIV/AIDS as a way to obtain services. Meanwhile, the New York City Department of Youth and Community Development, responsible for providing homeless youth in New York City with the services and resources they need to stabilize their lives, would give no comment.
To be eligible for the services provided by New York City's HIV/AIDS Services Administration, commonly referred to as HASA, people must be diagnosed with AIDS or have HIV with certain other specified medical conditions, says Dr. Robert Grossberg, medical director of the Montefiore AIDS clinic in the Bronx. Those eligible for HASA services get a living plan, housing assistance, financial aid, and free medical care. Exactly what each person gets is determined on a case-by-case basis, depending on factors like their income level.
The housing assistance consists of immediate temporary placement in an SRO (single room occupancy) building, which has individual and two-person rooms with shared kitchens and bathrooms, until a permanent apartment is found. Once a permanent apartment is found, HASA covers the rent but residents pay for their own utilities, such as electricity and gas.