Father Figure
1.17.2013
By Shana Naomi Krochmal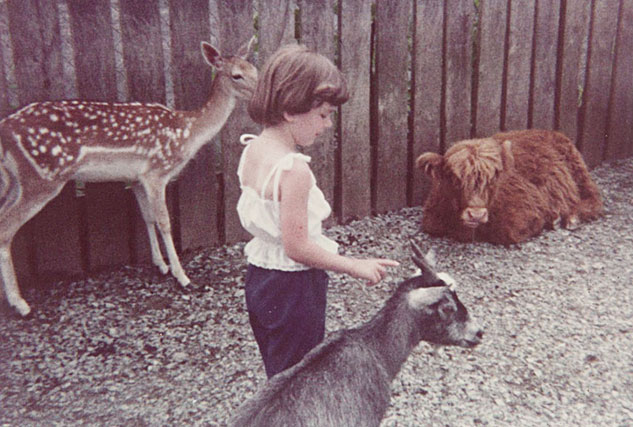 Jessica as a child at a petting zoo
On Fridays, Tommy and Jessica's mom would sometimes dress Jessica in her Catholic school uniform, but then they'd all skip school together, them dropping Jessica off at her grandparents' house so the grown-ups could have a lost weekend.
The first time Tommy walked into her grandparents' dining room, he pulled a gun out of his waistband and calmly set it on the dining table.
"Do you really have to put that there?" Jessica's grandmother asked.
"A faggot can't go out to the country without a gun," Tommy said.
"Well," grandmother replied, "you don't need it here."
When Jessica's mom took up with a younger guy Tommy didn't trust -- a 23-year-old Chippendales dancer -- he taught Jessica how to hold the gun, though not how to shoot it. "If he ever bothers you," Tommy said, "you come get me, or you come get this."
After Jessica's mom ended up in treatment, Jessica moved in with her grandparents, and even through her tumultuous, troublemaking teenage years it was still a comparatively stable, safe environment.
But for Tommy and the other fiercely defiant faggots fighting their own way through Reagan's America, there were a series of all-too-real after-school specials on the horizon.
When her grandmother called her at boarding school in the early '90s and said, "Tommy's getting sick," Jessica says, "I knew what that meant."
Home for the holidays, she visited Tommy at his mom's house, where he was sleeping on a hospital bed in the living room and surviving on a diet of "sparkling smoothies" -- rainbow sherbet, protein powder, and 7-Up -- because he had lost most of his teeth.
Just after she got back to school, her grandmother called again. "Get packed," she said. "I'm coming to pick you up for the funeral."
Despite being two 30-year-old women when we met, Jessica and I have both been living in queer culture in one way or another since we were kids. We already felt like old queens, from our comfortably camp reference points to the simmering anger and grief on behalf of the men who have died along the way.
In lieu of traditional introductions to the in-laws, we've spent years working our way through our respective social registers full of gay men who made us the queer women we are today. We have dozens of overprotective older brothers, mischievous co-conspirators, lost little lambs.
These are the men whose struggles proved we, too, could survive the worst our families and the cruel world could do to us, whose loyal friendships and lifelong love stories taught us how to take care of the lost little girls we both still carry inside.
Many of the other flamboyant father figures somehow hung on through the pre-protease sunset by the skin of their teeth. Some, like Tommy, didn't live long enough to see us find each other. But they are still our people.